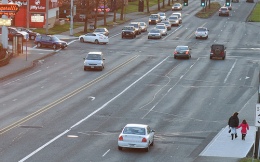 SE Powell.
(Photo © J. Maus)
UPDATE: This bill no longer exists in the form reported below. I've heard from Rep. Cannon's office that HB 3150 will get the "gut and stuff" treatment; which means the language will be significantly altered. The new plan is to make HB 3150 a companion bill to Senate Bill 344, the bill PBOT is pushing for to get authority to lower speed limits on residential streets. I'll post clean update in separate post in a few minutes.
---
HB 3150, the bill that would give cities with a minimum population of 100,000 the authority to designate speed limits on state highways, is slated for a public hearing on February 25th.
This bill is being watched closely by traffic safety advocates because high-speed, state-managed highways and arterials are where the vast majority of serious injury and fatal crashes take place. Unfortunately, many neighborhoods throughout Oregon held hostage by these large streets and local jurisdictions have few tools to deal with them because the streets are owned and managed by the Oregon Department of Transportation (ODOT).
The hearing is with the House Committee on Transportation and Economic Development and meets at the State Capitol (900 Court Street NE) in Hearing Room D at 1:00pm.
This bill is similar to a bill being worked on by PBOT that would allow cities to lower speed limits on some residential streets.
— See our full 2011 Legislative Session coverage here.
If you have questions or feedback about this site or my work, feel free to contact me at @jonathan_maus on Twitter, via email at maus.jonathan@gmail.com, or phone/text at 503-706-8804. Also, if you read and appreciate this site, please become a supporter.