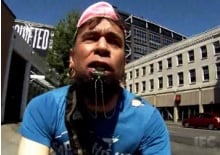 -Watch clip below-
Fred Armisen as a Portland bike messenger.
Portlandia is the new, six-part IFC miniseries that's getting a lot of buzz around these parts for its attempts to poke fun at Portland's idiosyncrasies. Back before the holidays, we shared a bit about it over on Page Two because, as you might expect, bicycling figures prominently into the show.
Now, in a newly released teaser clip titled Bicycle Rights!, Portlandia's co-lead actor Fred Armisen gives us a taste of how they'll handle the subject…

(Story updated with full clip below)
I can't wait to see the full skit. I think it's hilarious. How about you?
More on Portlandia here.
If you have questions or feedback about this site or my work, feel free to contact me at @jonathan_maus on Twitter, via email at maus.jonathan@gmail.com, or phone/text at 503-706-8804. Also, if you read and appreciate this site, please become a supporter.