Posted by Jonathan Maus (Publisher/Editor) on December 30th, 2010 at 9:42 am
What an AROW meeting looks like.
(Photos © J. Maus)
Portland is transportation wonk central. You know what a transportation wonk is right? The type of person who is always spouting acronyms like VMT, MUTCD, and RTP and who have passionate discussions about crossing treatments, traffic calming, signal timing, and so on. If this sounds like you or someone you know, get ready for this coming Tuesday (1/4) when two of the most wonktastic events in recent memory happen on the same night…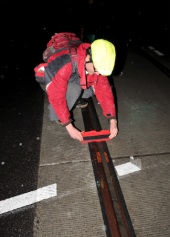 Measuring streetcar rail height.
Some of the biggest wonks (and I mean that in the nicest way possible) I know are the folks behind Active Right of Way. The other night I photographed one AROW volunteer, the illustrious Ted Buehler, measuring the height of a streetcar rail flange at night and in the rain — and that was after he had diagrammed the Pearl District on a chalkboard complete with lane widths he had measured himself the day before (in photo above)!
Now there's a social event for people like Ted. Join him and other nice folks for AROW Wonk Night on Tuesday (1/4) from 4:30 to 6:30 pm in the Publications Room at the Portland Central Library (801 SW 10th Avenue). Here's the official event description:
"We'll be cracking open old urban plans, traffic manuals, maps and other exciting City of Portland documents from the past stored in the central library's basement, and available via the call desk in Publications. It's a fun opportunity to see why much of the built environment is the way it is today, and what it could have been. Heard about the Bus Rapid Transit proposal that would devote two exclusive lanes to BRT up and down MLK, as proposed in the mid 70's? Of course you haven't, it's buried in an old plan for Union Ave that only exists in the analog archives!"
Now that sounds like my kind of event. For more details, check out the blog post on ActiveRightofWay.org.
Mia Birk can tell some tales.
And for extra credit, roll a few blocks north for the big Mia Birk, "Joyride" reading event at Powell's Books (1005 W Burnside). Mia will read from her new book and there will also be a Q & A, raffle, and more. Here's the event blurb:
"Author Mia Birk shares the hidden history behind projects like the Eastbank Esplanade and SE 7th/Sandy, other pivotal moments in local bicycle history, and the future of bicycle transportation across North America."
If you're an aspiring local transportation nerd and know-it-all like myself, Ted, and many others in this strange town, get out to these events Tuesday night. Knowledge is power!