For the next two weekends, the attention of cyclocross fans across America will be on Oregon.
This weekend is the Stanley Portland Cup, the fourth and final stop of the United States Gran Prix of Cyclocross. Next weekend, the action moves to Bend when the USA Cycling 2010 National Cyclocross Championships roll into town.
The USGP will take place all weekend out at Portland International Raceway just north of the Kenton neighborhood. Tomorrow night, Hopworks Urban Brewery will host a number pickup party where you can grab a beer, rub shoulders with America's top 'cross racers, watch 'cross movies, and more. Stay tuned for a full USGP preview from our racing news contributor and publisher of Oregon Cycling Action, Pat Malach.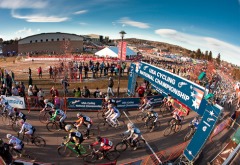 A scene from 'cross nats in Bend last year.
(Photo: Ben Ross/USA Cycling)
The 'cross action doesn't stop this weekend. With the mud barely dry, local 'cross fans will pack up and head to Bend in Central Oregon for the National Championships. The nationals course will wind through Bend's Old Mill District. The racing starts with qualifying time trials on Wednesday and goes all the way through Sunday when the champions will be crowned.
Beyond racing, don't miss Cross Culture: Bike + Art Love, which VisitBend.com describes as a "multi-event arts celebration". Among the events is a community art walk on Friday night that will include the Bend Artcrank poster show (an exhibit which includes our limited edition "Know by Bike" poster!).
See the full schedule of events at VisitBend.com.
Cyclocross was huge in Oregon this year, with major races happening throughout the state. After next weekend, would anyone argue if I said we are the cyclocross capitol of America?