A new, Portland-based company specializes in heavy-duty bike trailers
that can attach to nearly any bike.
(Photos: Black Oak Fabrications)

The latest addition to Portland's already impressive crop of cargo bike makers and related businesses is Black Oak Fabrications. Black Oak, a partnership between 28 year old Eric Reddy (friends call him "Dirt") and 30 year old Glen McHargue, is a custom metal fabrication shop that specializes in high-quality, welded aluminum bike trailers.
Reddy is a graduate of the welding program at Portland Community College. He and McHargue started developing their trailers in early 2009. Since then, they've been tweaking the design and refining their production process to maintain quality but keep the prices as low as possible. You might have seen them selling the trailers out at Last Thursday on Alberta.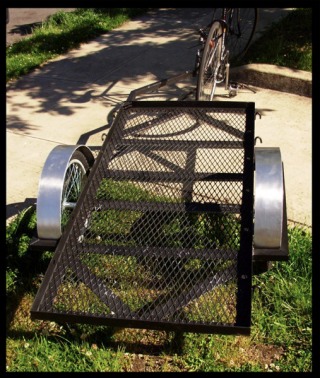 The "Oak" — with a 30×60-inch cargo area — is $525.
Dirt and Glen weld their trailers from 6061 structural grade aluminum — which means they won't rust and they're lightweight (relatively) and durable. Another nice feature are the wide fenders over the wheels. Since the fenders are welded from 1/8th inch thick aluminum, they not only keep your load clean and dry, you can also lay a table or some plywood right over them without worry. Each trailer also comes with tie-down hooks placed all around the edge of the trailer frame. The hitch is made by Burley Designs in Eugene.
Aaron Scott, a Portland-based musician, says his Black Oak trailer makes it easier for him to be carfree:
"I used to borrow a car every time I played a show because I couldn't carry my guitar, gear, and merch [merchandise] on the bus with me (and it certainly didn't all fit in a pannier). This trailer is big enough to carry everything I need for the show, but light enough to carry up and down the basement stairs without grunting. One less (frequently borrowed) car!"
While there are some stock models, Black Oak also loves doing custom trailers. "We love the challenge," says Reddy, "We encourage people to think big… or to add their own flair to a trailer order."
To help compensate for the environmental impacts of the materials they use, Black Oak contributes five percent of their profits to The Nature Conservancy. Black Oak is also starting a new program called "Share the Load" where customers and people in the community can donate to a fund that is used to provide trailers for non-profits that need them.
Check out a few more photos below…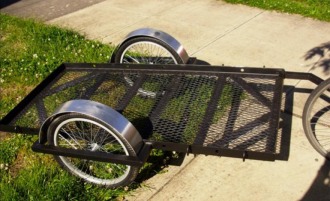 Prices for their three stock designs range from $425 to $525 (which includes your choice of paint color and two, 20-inch wheels). Turnaround time is 1-3 weeks. Learn more at BlackOakFab.com.
Contact Jonathan at @jonathan_maus on Twitter, via email at maus.jonathan@gmail.com, or phone/text at 503-706-8804. Also, if you read and appreciate this site, please become a supporter.