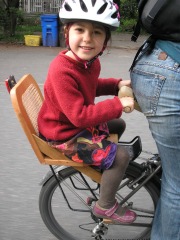 Reader Reuben Deumling made
this wooden beauty for his little beauty.
(Photos: R. Deumling)
Reader and Portland resident Reuben Deumling recently shared a project with me that I wanted to pass along.
For the growing number of you who find yourselves needing/wanting to carry a little passenger along, he's come up with a very nice wooden child seat. I asked him to share a bit more about how and why he made it.
Reuben was frustrated at how quickly kids tend to outgrow the plastic, commercially available seats. His daughter is five, and rides her own bike, but Reuben says sometimes it's just easier to load her onto the seat and get rolling. The result looks great and from his daughter's smiles, it's darn comfortable too.
Here are some more photos…
Want some tips on building one yourself?
Reuben used Oregon White Oak, Douglas Fir and caning which he bought from Seatweaving.org.
As for tools, he used primarily a table saw and a bandsaw. Glue and a couple of brass screws completed the materials list.
Reuben is a veteran wood worker, so he used the seat to learn how to make box joints ("a simple alternative to dovetails").
As for the caning material, he said he used that, "Because I wanted something more comfortable than wood, but knew any kind of foam would quickly soak up the rain and become less than satisfactory."
Reuben says he's had several offers to sell the seats, but for now he's too busy to produce a batch. Of course, to make them affordable, he'd have to simplify the design, build some jigs, etc…
I've noticed that biking with kids leads to a lot of DIY mods and creative innovations. Reuben's seat isn't the first wooden child seat I've seen, but it's definitely one of the nicest.