What happened?
(Photo: Bill Jackson)
Richard Krebs, the man who was involved in a collision with a TriMet bus on SW Morrison and 6th on August 12th, has come forward with his side of the story. He takes issue with several important parts of TriMet's official statement and says he was under medication from his injuries when he made incriminating statements to the police. TriMet says they stand by their version of what happened, but they acknowledged today that the bus operator did not perform his left turn correctly prior to the crash.

Krebs is a 36 year old medical student completing his third year of clinical clerkships at OHSU. He spent eight days in the hospital following the crash, which included a broken clavicle and several skin grafts on his leg.
"If you were to freeze the bus in the turn he is in the center lane. He moved too far over… that's a concern for us and that's what he's been re-trained on."
— Josh Collins, TriMet Operations
According to TriMet, Krebs was behind a bus headed northbound on SW 6th (the transit mall) and both were in the left lane (there are three lanes on 6th, one for light rail only, one for bus only, and one for buses, bikes, and cars). As the bus approached SW Morrison, TriMet says the bus operator, 39 year old John Nations, swung wide to the right to execute a left turn to go west onto Morrison. When the bus turned back to the left, its left front wheel came into contact with Krebs, smashing his bike and running over his leg.
On August 31st, TriMet issued a statement saying that Krebs had been issued a citation for running a yellow light and slamming into the bus "at a high rate of speed."
Krebs told me today that he remembers things a bit differently.
Krebs said he distinctly recalls the bus being to his right prior to the crash. He recalled riding along at about 10-15 mph with the bus in the lane to his right. "I was by myself in left lane, with a car in front of me. The bus was in middle lane the whole time. This is not at all fuzzy. I completely remember it. And I didn't see any signals."
Three of the four witnesses in the police report also said the bus was in the center or "bus only" lane as it made the turn. A TriMet bus operator who witnessed the crash told police Krebs was traveling "at a high rate of speed" which she estimated at about 10-15 mph.
I spoke with Josh Collins of TriMet Operations today to gain more clarity about the lane question (TriMet has watched the on-board video, but they haven't released it yet — more on that below).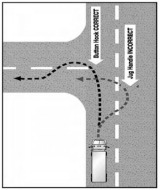 The type of turn Nations made,
as per the ODOT Commercial
Driver's Manual, is "incorrect."
–
Download larger size
–
Collins said the bus operator, John Nations, was in the center lane prior to making the left turn. Collins added that Nations began in the left-most lane, but he swung further to the right than they recommend and ended up in the center lane. "If you were to freeze the bus in the turn he is in the center lane. He moved too far over… that's a concern for us and that's what he's been re-trained on."
The movement Nations made, Collins said, "is closer to a jug handle" type turn, which is contrary to statements made by TriMet communications director Mary Fetsch, who said that Nations made a "button hook" turn. It's important to note that the ODOT Commercial Driver's Manual labels jug handle turns as "incorrect" (see graphic at right).
Here's the police reconstruction drawing that shows where both vehicles came to rest: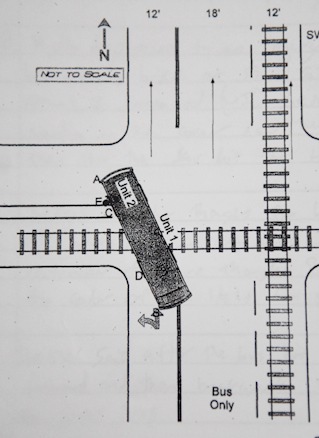 Drawing by Portland Police Bureau
Collins also said that Nations had his left blinker on the whole time, but acknowledged that, given the wide swing to the right the bus made prior to the turn, if Krebs didn't see the blinker, "He could assume the bus is going toward the right."
"I can't believe I said those things about the brakes. The brake on my bike works fine. What I meant to tell the officer is that once the bus was right in front of me it was difficult to stop."
— Richard Krebs
TriMet's media statement on August 31st also claimed that Krebs was given a citation in the crash. However, as of today (9/2) there is no record of a citation ever being written to Krebs. When asked to verify the information, TriMet said "Based on what's written in the police report, it's our understanding that he will be cited… they [the police] must still be in process." The police report TriMet refers to was written on August 13th and Police Bureau Traffic Division Sergeant Todd Davis says the citation should have been processed by now. In a subsequent follow-up with TriMet Operations spokesperson Josh Collins informing him that the citation had not yet been issued, he said, "We should have called and verified they'd written and given it to him. It's our understanding they still will be citing him."
This is an unfortunate oversight on TriMet's part because several local media outlets, including us, KGW and The Oregonian all reported that Krebs has been given a citation when in fact he hasn't.
In the police report taken on 8/13, Officer Kent Scott writes in a section titled, "Conclusion" that Krebs was to be cited for running a yellow light (ORS 811.265 – failure to obey a traffic control device). Officer Scott came to that conclusion in large part because of incriminating statements Krebs made following the crash. Here are some key excerpts from Krebs' statement in the police report:
"Krebs watched as the car in front of him drove through the yellow phase…"
"Krebs said that the brake on his bike isn't working that good."
"Krebs told me he should have stopped and that he felt bad for the driver."
I asked Krebs to explain the discrepancy between the statements he made to police on August 12th and what he's saying now. Krebs said that when he gave his statement to the police, just 1-2 hours after the collision, he was still being treated at OHSU and was "completely drugged and in pain". "In situations like that," he said, "I tend to blame myself, for the life of me I don't know why I say things like that."
What about your brakes?
"I can't believe I said those things about the brakes. The brake on my bike works fine. What I meant to tell the officer is that once the bus was right in front of me it was difficult to stop."
As for whether he ran the yellow light, Krebs says he's positive the light was green.
"The crosswalk [countdown timer] was on "2"… I was focused on it… Somehow I think the officer made the suggestion it was yellow and I just went along with it."
The on-board video from the bus would clarify a lot of things, but TriMet has not released it. On August 30th, TriMet said the video, "is currently not releasable at this time because it is material evidence that may be used in court in relation to the citation." Reached via phone today, TriMet spokesperson Bekki Witt said they can't release the video because they're waiting for clearance from the DA. TriMet wouldn't comment further on any potential court action and they referred me to the DA for questions about a possible criminal investigation (which is the only reason I can think of for the DA having the video). I'm awaiting a call back from the DA to find out why they're holding the video.
DA John Copic John Copic, reached in his office this morning (9/3), says he hasn't yet watched the video, but confirms that it is in their possession. Copic says it's DA policy to not release any videos "until all potential court appearances are resolved." Copic is waiting to discuss the matter with Kent Scott, the police officer who responded to the incident and who took the initial statements from Nations and Krebs.
Krebs says that when he asked TriMet to see the video (at the urging of his insurance company) a representative for TriMet told him the video is "damaging to their case". "They said the bus operator improperly executed the left turn and the video showed he turned right in front of me." Krebs' insurance agent has now requested the video.
Krebs has plenty of time to think about the crash and figure out all the details of how it happened. He's still bed-ridden from his injuries and doctors tell him it could be several weeks before he'll be able to walk normally again.
– Browse our previous coverage of this story here.