Posted by Jonathan Maus (Publisher/Editor) on August 4th, 2010 at 11:37 am
Spotted on NE MLK and Tillamook.
(Photo: Amos Hunter)
I've been trying to get a handle on my inbox of late, and in doing so I've come across a few neat photos that I figured would be fun to share.
The first one comes from BikePortland staffer Jonathan "J.R." Reed (yes, the only person on my staff has the same name with the same spelling — that's why I call him J.R.). He spotted a community bike pump outside the Rose Quarter offices of the Portland Trail Blazers…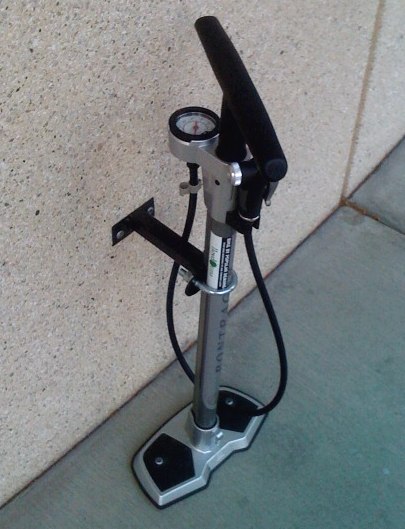 (Photo: Jonathan Reed)
Turns out the pump was put there through a partnership between the Rose Quarter and the amazing, bike-encouraging folks at the Lloyd District Transportation Management Association.
The next photos come from new contributor Amos Hunter. Amos spotted free bike repair set up last week in the parking lot on the northeast corner of MLK Jr. Blvd. and Tillamook. Perhaps they were inspired by Dan Sloan?
He also spotted a sharrow on SE Salmon that has a special bonus for beer lovers…
I love these little scenes of a healthy bike city. If you come across any, send them to us and I'll share them when I can.