Speed bumps coming soon
on this stretch of Germantown Rd.
(Google Maps)
If you are one of the many people who enjoy riding down NW Germantown Road from Skyline Blvd., get ready to handle a few speed bumps toward the bottom of the route.
The City of Portland Bureau of Transportation plans to install five "speed tables" on Germantown between NW Bridge and Lilac Avenues this Saturday (7/24). The $16,000 project is being paid for by residents of the area who are concerned that people are driving too fast as they approach the Highway 30/St. Johns Bridge interchange.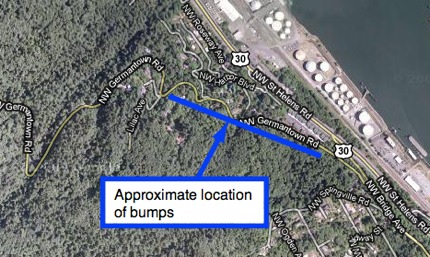 According to PBOT speed bump project manager Will Stevens, the five bumps will be 22-feet long with a 10-foot, flat, "table-like" section in the middle and will be spaced about 600-700 feet apart. This stretch of Germantown is considered residential and has a 25 mile per hour posted speed limit (the rest of the street is 30 mph). However, PBOT data shows that the 85th percentile speed in the project area is 34-37 mph. (The 85th percentile speed is the point at or below which 85 percent of the vehicles are traveling.)
Portland resident Casey McDonald, who rides down Germantown frequently, saw signs about the project during a recent trail run in Forest Park. He says he hopes people on bikes slow down to avoid any mishaps. "The bumps should be a good thing to keep auto traffic speeds down, but I know I've ridden down Germantown at pretty high speeds and a speed bump could create a problem."
In case you're wondering, PBOT has a policy of not installing speed bumps in curves.
Please note that NW Germantown Road will be closed this Saturday from 7:00 am to 5:00 pm so crews can install the bumps.