Congratulations Portland! Your penchant for pedaling pantless has set records once again. Estimates from last night's World Naked Bike Ride put the number of riders at 11,000-13,000 people*. Wow. I think that would be the largest ride of its kind the world has ever seen. (*Note: The initial estimate of 13,000 has been disputed by event organizers.)
People who watched say it took about 30-40 minutes for all the riders to pass by. All reports from the field so far say the event itself was a big success. A large (and coordinated) police presence helped the ride stay together by corking most intersections.
The route also "worked beautifully" according to one of the volunteers. Organizers wanted to avoid the bottlenecks (which can lead to excessive groping from bystanders) that had occurred downtown in previous years so they spent more time on the east side. The ride went through downtown via W. Burnside and went up Hawthorne Boulevard, passing by the Bagdad and Laurelhurst Theaters in Southeast.
Here's another photo from local photographer Jared Souney: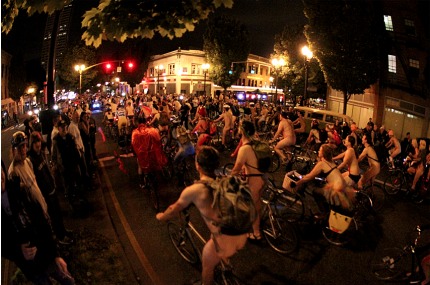 (Photo © Jared Souney)
By all accounts, it was another amazing Naked Ride and a magical night to be on a bike in Portland.
The crew of volunteers and organizers from Shift deserve a huge thanks for making it all come together… as do the City of Portland, TriMet, the Portland Police Bureau, and all the other local agencies that allow this to take place worked together to make everything go smoothly.
Was it good for you? Chime in below to share your experience and let us know how it went.
– More photos by Jared Souney here. Also see this photoset from Jim "K'Tesh" Parsons.
[*If you're skeptical about the 13,000 rider estimate, check out this analysis by volunteer (and BikePortland contributor) Marcus Griffith.]