Posted by Jonathan Maus (Publisher/Editor) on June 9th, 2010 at 10:37 am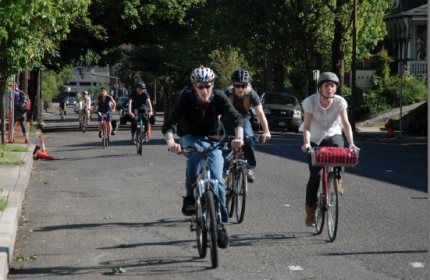 Williams will get an extra foot to handle its heavy bike traffic (as seen in this photo taken yesterday).
(Photo © J. Maus)
PBOT confirmed this morning that they will add an extra foot of width the a busy segment of the bike lane on North Williams Avenue.
A few weeks back, we noticed the lower section of Williams north of Broadway was getting repaved so we wondered out loud if PBOT could re-stripe the street with a wider bike lane. PBOT responded with a tentative "yes" last week and now we've confirmed the plans.
According to PBOT spokesman Dan Anderson, the bike lane will now be six-feet wide from Broadway to N. Stanton, except for a short stretch just north of Sacramento where a truck loading zone on the west side of the street means the bike lane will narrow back to five feet.
The extra foot of width for the bike lane is possible by narrowing one of the parking lanes from eight to seven feet. The paving is currently scheduled for June 14 (weather permitting) and should take about three days to complete. The new striping will be laid down shortly thereafter.
Williams is an extremely busy bikeway and this widening is being done as an interim measure while PBOT analyzes a more thorough and permanent solution (like a cycle track) to be completed in the near future.
UPDATE: There was some concern in the comments about lane widths. I asked PBOT for clarification and have heard back from project manager Ellen Vanderslice:
"The west side parking [on opposite side of street from bike lane] wasn't delinated, but it was 8′. The configuration west to east before grinding was 18′ to centerline (8′ parking plus 10′ lane) then 10′ to bike lane line, then 5′ to parking lane line. Except for the short stretch north of Sacramento, after the paving the configuration west to east will be 17′ to centerline, 10′ to bike lane line, 6′ to parking lane line."