Oregon's best and brightest bike
advocates all came together for
the 2010 Oregon Bike Summit.
–
Photo Gallery
–
(Photos © J. Maus)
The Oregon Bike Summit happened on Friday. It was a lot of excellent information packed into one day, without a lot of breaks. That meant it was difficult for me to simultaneously attend, listen, talk with people, photograph, and create coherent stories on the day of the Summit (especially since I left before it was over to see my 7 year-old daughter in a school performance). I did a few stories, but there's much more to report.
""Vehicular homicide will be an extremely heavy lift."
— Doug Parrow, Chair of BTA Legislative Committee
On that note, I want to share some thoughts from the various speakers and workshops that happened throughout the day. If you attended, feel free to share your memories and insights in the comments.
Jonathan Nicholas was the emcee. He opened things up with his usual poetry-laden takes on the state of things in our local bicycling world. Here are a few notable ones:
"Some see the BTA as facing a precipice, I see it as a doorway, a portal to a golden tomorrow, the Golden Age of Bicycling in Oregon… If it does not happen here then where? If it does not happen now then when?

Nothing makes me more upset than to watch what's going on in New York City and to think that Manhattan is ahead of Portland… we should be deeply ashamed."
The BTA's top legislative thinker, Doug Parrow, shared insights into the direction they're headed for the 2011 session. I didn't get down as much of his presentation as I would have liked, but I got a few nuggets. Parrow said the BTA's legislative package will focus on personal safety and health and he spoke about the urgent need to more effectively make the case for bicycling to our state representatives in Salem. One of misperceptions he's working to correct is that people who ride bikes don't pay their way. One pillar of his argument is that, due to dwindling gas tax revenue, Oregon has jacked up a number of "fixed fees" like vehicle title and registration, that all car owners pay.
Parrow also touched on efforts to bring a tough vehicular homicide law to Oregon. From his comments, it seems like it's not a given the BTA will go for it.
"Vehicular homicide will be an extremely heavy lift. We're trying to identify a politically viable way to ratchet up the liability when someone kills someone else with their car."
One shocking statistic Parrow shared was that in Oregon each year, 40,000 people are convicted of driving with a suspended license.
On the bike tourism front, we heard from Kristin Dahl of Travel Oregon. She gave an overview on the impact bicycling has on our state's tourism revenue. Turns out that Oregon has twice the national average (percentage-wise) of people who ride a bike during their visit. According to Travel Oregon, in 2006 1.7 million overnight visitors biked while in Oregon.
Dahl also pointed out the big successes we've had in Oregon with mountain biking. "We have a competitive advantage on mountain biking." She shared a few reasons Oregon is well-positioned for mountain (and road) biking: We've got only 36 people per square mile, a population density well below the national average of 86 (which ranks us 39th); and over half of our lands are publicly owned.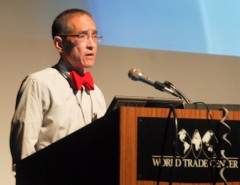 Dr. Philip Wu urged
bike advocates to become
health advocates.
We also heard from Dr. Philip Wu from Kaiser Permanente. His presentation focused on the extent of the obesity epidemic and how bike advocates should focus on health and physical activity as a rallying point to promote more active transportation infrastructure.
"Human disease is preventable and physical inactivity is a major culprit.. health care costs are unsustainable… and cycling should be part of every day life.

…You should use the health message as a leverage point to broaden your appeal and accomplish your goals."
Stressing that "transportation policy is health policy, Wu shared an interesting graphic…
This slide from Dr. Philip Wu's presentation shows the many allies bike advocates can call upon.
With the above diagram on the screen behind him he said, "You can't work on any one of these bubbles without touching every one of the other bubbles; and you're just one degree removed from each of them."
Wu said it's a "daunting" prospect for advocates, but that it's also encouraging to know there so many other potential allies which should be leveraged. Bike advocates, he said, must do more to partner with public health advocates and agencies.
After the general session talks, I sat in on several of the panel discussions. PBOT bike coordinator Roger Geller presented during a panel on active transportation. I've seen Geller present many times, but on Friday he had a new perspective — it was titled, Bicycling as if our future depends on it.
Since the Oregon Bike Summit is held in part to educate and train people from around the state to be more effective advocates, Geller's talk focused on how bicycling can be positioned in a way that jibes with the "values and beliefs of people throughout the state, if not the country."
"What's important is that this is not about the bike; it's about the future well-being of our citizens, our communities, and our world."
Geller's presentation made the case for biking on several fronts; personal safety, health, financial security, time (having and saving), children, and "intergenerational responsibility" (handing over a nice planet for our kids).
He showed a slide of kids on bikes and said,
"In Portland, these kids are four times safer than they were in 1996 because we built a bikeway system… Portland's six-fold increase in bicycling since the early 1990s has saved lives and prevented injuries."
This was also the most pointed I've seen Geller in talking about the deleterious impacts of motor vehicles in our city. He pointed out a recent study that showed people who live within 300-500 meters of a busy street are at a significantly greater risk of a host of illnesses. Check out his slide of how those impact corridors overlay with a map of Portland:
Slide from Roger Geller's presentation showing busy street corridors in Portland.
To tout PBOT work in making those street less busy, Geller pointed out their on-street bike parking program: "We've removed over 90 car spaces and put in 950 bike parking in commercial districts."
Up next after Geller was the person behind Metro's Active Transportation Partnership, Lake McTighe. She maintains that the biggest barrier to building out the active transportation network in our region is funding. At our current funding levels, McTighe says the estimated date of completion of that network is 2198.
Of all the transportation investments made in Portland over the past 15 years, only 2% of it has gone to active transportation projects (that's about $191 million out of $9.2 billion). To put it in another perspective, the annual transportation investment in our region is $630 million, and currently we're investing about $12 million of that into active transportation projects. That's not enough money said McTighe because the Eastbank Esplanade alone cost $30 million.
The cost of the system Metro and others want would cost about $1 to 2 billion. To build all the biking and walking specific projects in Metro's Regional Transportation Plan it would cost $1.3 billion. To build 340 miles of currently identified regional trails it will cost $1 billion.
That sounds like a lot of money, but McTighe said if the will was there, it could happen. To back up that claim, she pointed out the 46,000 miles of roads in our Interstate Highway System which were built in just 35 years at a cost of $425 billion. "Focused investments can get the system built."
I sat in on one other workshop session, but I'll save those notes for a separate post. I've also got notes from the talk at the end of the Summit by newly hired BTA Executive Director Rob Sadowsky, but I'll wrap that into a separate story as well. And yes, I also have all the Big Ideas to share! I'm running out of time today, so stay tuned for more on those tomorrow.
To round out the Oregon Bike Summit coverage, if we're going to build the kind of political and public will to spend real money on active transportation in Oregon, we've got to do more to build the constituency. On that note, the man who has single-handedly made the Summit happen each year, Cycle Oregon's Jerry Norquist challenged all of us to make the 2011 summit the biggest yet.
The 2011 Oregon Bike Summit will be in Salem during next year's legislative session. To make the kind of impact we need, Norquist said each one of us in the crowd should get 25 people to join them. "If we go to Salem with over 2,000 cyclists, we'll make a big difference."
— Read my other posts from the Oregon Bike Summit here (also see my story on OTC Chair Gail Achterman, which I published prior to the summit).