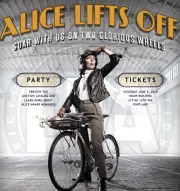 Screenshot from Alice Awards site.
The Bicycle Transportation Alliance (BTA) has unveiled a new website and theme for their 2010 Alice Awards and Auction event. They have also confirmed this year's list of nominees.
"Alice lifts off: Soar with us on two wheels" is the tagline on the new website, which features a vintage aviator aesthetic (due to the hangar-like feel of the Bison Building where it's being held).
The 15th annual event is the most important fundraiser of the year for the BTA (in 2008, they raised $150,000). In addition to ticket sales (which go for $100 a piece), it also includes both a silent auction and a live auction. Attendees dress in their off-bike finest and are treated to dinner and a night full of toasts to Oregon's bike advocacy movers and shakers.
There are 30 award nominees this year, including organizations and individuals from throughout the state. Some notable names on the list include our West Side correspondent and citizen activist superhero Jim "K'Tesh" Parsons, the blogging crew from Urbanmamas.com, Oregon Manifest director Jocelyn Sycip, the Portland Trail Blazers, and Rapha's North American manager Slate Olson.
Another big name at this year's Alice Awards will be newly hired executive director Rob Sadowsky. He isn't slated to take the helm officially until about a month after the event, but he'll be in attendance to meet and greet donors.
The event is slated for June 5th at the Bison Building (419 NE 10th Ave) in Northeast Portland.
Contact Jonathan at @jonathan_maus on Twitter, via email at maus.jonathan@gmail.com, or phone/text at 503-706-8804. Also, if you read and appreciate this site, please become a supporter.