Local rider Ben Kaufmann riding
on trails near The Grotto.
(Photo: Andrew Callaci)
Local BMX riders are hoping to stop what they say are plans to bulldoze a popular network of trails and jumps located in a forested area near The Grotto in outer Northeast Portland.
Shad Johnson, owner of Goods BMX shop, told us that Portland Police approached people at the site yesterday to announce that due to a complaint by a nearby homeowner, the trails and jumps will be "plowed within two weeks."
"This is really big deal," says Johnson, "these trails have been a staple to Portland BMXers for 16 years. In the past few years with BMX growing stronger in Portland there has been a lot of work been put into them."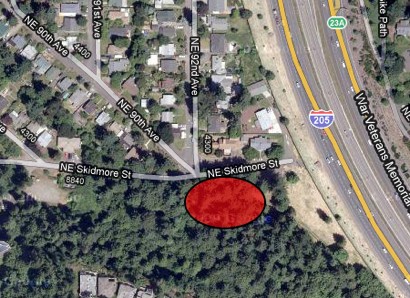 Red circle shows location of jumps and trails. They are at the northern base of a hill just west of I-205. The Grotto is to the south.
The trails are well-known by local BMX riders and mountain bikers. According to Johnson, the trails and jumps have been around since 1994 and, after being neglected for years, have enjoyed a resurgence of late. In July 2009, ESPN created a video about them and likened the trails to "Oregon's BMX sanctuary in the woods."
A "sanctuary" of trails and jumps.
(Photo: Megulon5/
Flickr
)
Johnson hopes to rally support for the trails. "I really feel like they're a big positive influence on BMX, and cycling in general, in Portland."
In addition to being a popular place to ride, Johnson says the presence of riders in the area has helped decrease drug dealing and prostitution. "The police have always told us that the trails being there has helped make there job easier."
But today, the police showed up to tell riders that a woman in a nearby house had complained to Grotto management and threatened to sue. According to Johnson, the woman is concerned that trail builders have moved too much dirt and she's worried a tree will fall on her house. Johnson says he's aware of the tree in question but that it's so far away that it would be "impossible" for it to fall on her house.
I asked East Portland parks advocate and Chair of Friends of Gateway Green Linda Robinson, if she knew anything about this. She said the BMX trails are unsanctioned and that they are on property owned by both The Grotto and ODOT. Robinson says she's aware that the Grotto management and ODOT are "displeased that the facility was built without permission, and that it keeps getting bigger and bigger."
Robinson added that when she saw the site last summer during a tour of Rocky Butte, she was concerned that some of the jumps were built by piling up and packing down soil several feet deep against the Douglas fir trees. "The problem with doing that," she says, "is that it changes the amount of air and water that can get to the roots… and adding more than a few inches of dirt over the roots of these trees can kill them — not immediately, but slowly over several years."
Johnson hopes to connect with others in the community for advice on how to move forward. Today he plans to meet with Grotto management to find a solution that allows the trails to remain in tact. "We'd love to move forward and make it a legal and sanctioned spot to ride."
Stay tuned for updates and developments.