Posted by Jonathan Maus (Publisher/Editor) on March 16th, 2010 at 4:54 pm
This Thursday night a fundraising party organized "by and for cyclists" will look to boost Rex Burkholder's campaign for Metro president.
From the event description:
"Put together by and for cyclists, it's a great way to help one of Oregon's cycling pioneers, Rex Burkholder. Enjoy excellent wine and delicious food, try your luck in a grand raffle, and hear Rex talk about his vision for the future of our region — especially where and how bikes fit in!"
So far, the raffle includes a private wine tasting and dinner for eight at event host Grochau Cellars (owner John Grochau is a Burkholder supporter), two season passes for the Cross Crusade, the Short Track MTB series, and other local races.
Notable bike scenesters behind the $25-a-plate event include: Community Cycling Center board member Augusto Carneiro; bike lawyer and veteran bike activist Mark Ginsberg; Bicycle Transportation Alliance board member and co-owner of Team Estrogen, Susan Otcenas; architect and Cross Crusade founder Rick Potestio; bike builder Ira Ryan; race promoter Kris Schamp; Portland Bicycle Advisory Committee member
Kathryn Sofich, and others.
Burkholder, even with his impressive bike credentials, has come under heavy fire for his support of the controversial Columbia River Crossing project in his capacity as a Metro councilor.
Here's the event flyer: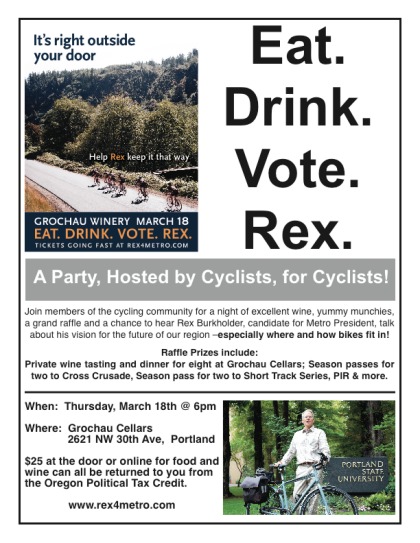 The event is at Grochau Cellars (2621 NW 30th) this Thursday (3/18) at 6pm. Full details at Rex4Metro.com.
Jonathan Maus is BikePortland's editor, publisher and founder. Contact him at @jonathan_maus on Twitter or via email at maus.jonathan@gmail.com or phone at 503-706-8804 (texts ok).