Eleni Maus loves her new bike.
At our house, not a Christmas goes by without some bike-oriented gifts being exchanged, and this year was no exception.
The marquee bike gift at our house this year was my daughter's new bike (thanks to her Grandma). As you can tell in the photo, she's thrilled (more on the bike coming in a separate post)! Also, at long last, I finally scored a high quality home repair stand (a Park PCS-10 to be precise).
Then there was this "Missing" bike shirt from Threadless that my brother gave me. Check it out: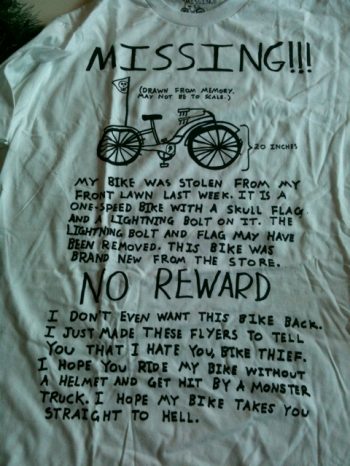 Reader Andrew Plambeck shared his big bike gift via Twitter: "My folks found me a restored '72 Peugeot Record du Monde single speed for Christmas. This is unbelievable."
How about you? Did your bike wishes come true? We'd love to hear what bike gifts you scored this Christmas…
Jonathan Maus is BikePortland's editor, publisher and founder. Contact him at @jonathan_maus on Twitter, via email at maus.jonathan@gmail.com, or phone/text at 503-706-8804. Also, if you read and appreciate this site, please become a supporter.