Posted by Elly Blue (Columnist) on December 2nd, 2009 at 8:30 am
A longstanding holiday institution in Portland is taking a stroll — or, more prevalently, a slow, idling drive — down the one-block Peacock Lane to gaze at the elaborate holiday light displays that residents drape over their houses, trees, and yards.
Last year for the first time, neighbors on the Southeast Portland street decided to open a night early and make the event carfree. This year they'll be doing the same — on December 14th, from 6pm to 11pm, the street one block east of SE 39th Ave between Stark and Belmont will be closed to all but foot traffic.
advertisement
A thick coating of ice on the streets last year — the legendary snowpocalypse was just beginning — meant that turnout for the carfree day wasn't exactly thronged, but there was a good turnout nonetheless, with many families arriving by bike and parking at temporary corrals set up at either end of the street.
Peacock Lane resident Becky Patterson got in touch to let us know that the neighborhood is excited to repeat the experiment:
Last year's Car-Free night was a great success even with the inclement weather. The residents on Peacock Lane celebrated the peace and quiet of our opening night; we all felt it was quite magical. The cross-country skiers, volunteers and other brave souls who came out to support us were greatly appreciated!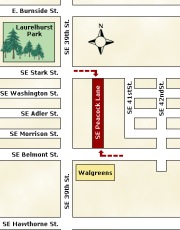 This year they'll repeat the experiment on December 14th again, and hope for better weather that will help gauge its success — residents are particularly concerned that the surrounding neighborhood will be plagued by parking problems if too many people drive to the carfree event. They are encouraging revelers to walk, bike, or take transit (the 15 and 75 buses stop a block away).
Once again this year, the neighborhood is asking anyone who arrives by bike to lock up or walk their bikes "due to the number of pedestrians we anticipate to be crowding the street." To avoid the confusion, they are billing the event as "pedestrians only" rather than "carfree."
Patterson added that there is talk of making the event carless for more than one day, or even its entire duration, and would like to hear suggestions about how to accommodate those who cannot walk (many folks are bused in each year).
Volunteers are being sought for one hour shifts at either end of the street to make sure the closure goes smoothly. To volunteer, email Becky Patterson at peacocklane at comcast dot net (Patterson has also hinted at a steady supply of hot beverages for volunteers).
Peacock Lane will be walking-only on Monday, December 14 from 6pm to 11pm. From December 15 through 31 the lights will be on for viewing by any mode from 6pm to 11pm (until midnight on the 24th and 31st).