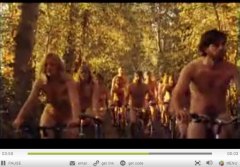 Still from video.
(Watch it below)
When The Flaming Lips announced they were looking for naked biking extras for their new music video, Portlanders responded in droves.
Lips front man Wayne Coyne got the idea after being inspired by the massive turnout and resulting media coverage of Portland World Naked Bike Ride last summer.
The resulting video for "Watching the Planet" has just been released to the public (after being screened in Portland at a party for everyone who was a part of making it). With scenes from Mt. Tabor and a beach on Sauvie Island, the video is sure to delight and amaze you, while adding further to Portland's interesting reputation.
Check it out below (Note: Video has lots of naked people riding bikes and dancing around. Depending on where you work, you might want to wait until you get home before viewing):