Posted by Jonathan Maus (Publisher/Editor) on October 10th, 2009 at 11:30 am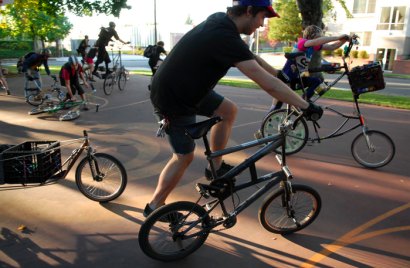 Racers leaving Dawson Park en route to Overlook at start of Freak Bike Alleycat.
-Slideshow below/
Gallery
–
(Photos © J. Maus)
The second annual Freak Bike Fall weekend kicked off yesterday with the Freak Bike Alleycat race.
15 competitors rolled into Dawson Park in North Portland, ready for an 18 mile jaunt to various checkpoints throughout the city. Before they left for the first stop in Overlook Park, they stretched, chatted, and of course, checked out each other's two-wheeled creations.
Among them were two home made bakfiets. As Portland has become home to production bakfiets from Holland and Copenhagen, and front-loader cargo bikes from China and Portland-based Metrofiets, it's not surprising that local freak bike builders have started making their own.
Chris Martini's shopping-cart fiets.
Alleycat competitor Chris Martini showed up with his DIY bakfiets that uses a shopping cart as the cargo bin. "It's the perfect size, and it's metal so you can weld to it." Martini works at the Give Pizza a Chance food cart on SW 5th and Stark and said he uses the bike to pick up produce and veggies and simply to "have fun".
There were also several tall-bikes (including a small tall-bike with pegs used for doing tricks), a few choppers, and a couple mini-bikes.
Freak Bike Fall continues with events today and concludes with the Freak Bike Olympics and a special edition Zoobomb on Sunday night. See more photos of freak bikes in the Gallery or watch the slideshow below: