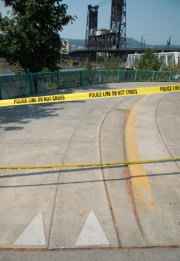 The Esplanade near the Steel
Bridge is closed due to a stabbing.
(Photo © J. Maus)
A fatal stabbing that happened late last night on the east end of the Steel Bridge has resulted in a closure of the popular bikeway. Reports from riders commuting to work this morning are that the ramp leading down to the Eastbank Esplanade is closed. The Esplanade is also closed just north of the floating section (and unfortunately there are no prior warning signs until you get right up to it).
Portland Police Bureau detectives are still investigating the scene. According to reports from the PPB Public Information Officer Mary Wheat, the initial call was about a fight and a stabbing. Two suspects have been detained whom police believe are involved with the incident. The deceased victim is a 39-year-old homeless man from the Portland area.
Anyone who rides by this location knows it is a popular spot for homeless folks to hang out and sleep. I wonder if this incident will increase people's concerns for personal safety while riding in this area.
A friend of mine just left this note on my Facebook page after I mentioned the stabbing:
"I've had to call the police while I was riding on the east bank esplanade at night once. I rode by one guy holding a knife behind his back, following two people trying to leave the situation. The police got there F A S T."
Anna Griffin, a columnist for The Oregonian who rides by here on her daily commute, wrote about the incident via Twitter this morning:
"Should I be concerned that my regular bike commute route was closed this morning because someone got stabbed? Or should I just pedal faster?"
Even though paths like the Esplanade are significant transportation corridors, unlike city streets, they have no regular police patrols and they tend to not have as many "eyes on the street".
Do you commute through this section of the Esplanade/Steel Bridge? If so, does this incident make you feel less safe? Since it was partly paid for with transportation-specific federal funding, should paths like the Esplanade have a more consistent security presence?