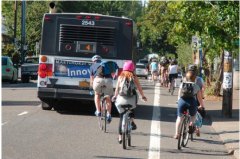 The dance on Williams begins as a bus
moves right across a bike lane for a stop.
(Photos © J. Maus)
As noted in a story we published last month, bike traffic on N. Williams Ave. is at an all-time high. One of the main issues with biking on that road is how bikes and buses interact. With a bike lane sandwiched in between buses and bus stops, there is a constant leap-frogging that takes place.
This "dangerous dance" as one reader recently referred to it, is stressful for bus operators and a major concern for people on bikes.
Since our story, I've personally experienced this several times. Just this morning, while biking east on Hawthorne (N. Williams isn't the only place where this is a problem), a bus signaled and then swung right — directly into the bike traffic lane I was in. Luckily, I was ready for it and was able to brake and move to the left without incident.
And I'm certainly not the only one who has experienced this. Reader Joshua Cohen included me on an email sent last week to the Mayor of Portland, City Commissioners, local media outlets and and City of Portland bike coordinator Roger Geller.
Cohen's email was a plea for help to fix a situation he feels is a ticking time-bomb.
After dinner on July 29th, Cohen walked his bike to the bus stop at N. Williams and Beech (he had forgotten his lights at home and "felt safer" riding the bus). In the email, Cohen wrote that after signaling for the bus to stop, he "cringed" as he, "watched the bus pull across the bike lane, just a few feet ahead of a small cluster of blinking lights." Here's more from Cohen's email:
"Thankfully, there was no collision, but the lead rider had to swerve wildly to avoid hitting the back of the bus. A few seconds later, I heard someone (presumably one of the riders) yell "Asshole!", just outside of the bus drivers window."
When Cohen walked on board, here's how he describes an exchange with the operator:
Driver: "Hurry up… All your bike brothers are out there breathing my oxygen."
Me: '"They aren't my brothers, they're just people… traffic."
Driver: "They're an obnoxious, poor excuse for human beings."
Cohen immediately noted the route number, bus ID# and everything else he remembered about the incident. He said he was initial "shocked and angry" at the behavior of the bus operator. But then, as he thought more about it, he became less angry with the driver and more concerned about the street design that caused the incident to occur. He wrote:
"It's not hard to imagine how this frustrating situation could cause a bus driver to make mistakes, with potentially tragic consequences."
On that note, Cohen then reminded City Commissioners and Mayor Adams that in 2007, they "took immediate action" to fix the dangerous intersection at N. Greeley and Interstate after a high-profile fatal crash and serious injury collision just weeks from each other. Cohen feels that the traffic situation on Williiams is "more dangerous than Greeley ever was."
Keeping buses to the right is a good idea.
Cohen wants the Bureau of Transportation to immediately modify N. Williams. If nothing else, he writes, "Even a simple meeting could have a positive effect if TriMet drivers, bicycle riders and traffic engineers got together to air concerns and suggest solutions."
All of this had me wondering what exactly bus operators are being told to do in this situation from TriMet management. Back in June, I asked TriMet GM Fred Hansen about it. He said that when people on bikes are present, operators are being trained to not signal at all. Hansen:
"If there's a bicycle around, operators are not supposed to signal prior to crossing over [a traffic lane] to service a stop. The idea is that you stop in the traffic lane, then when the bikes have cleared you service the stop."
Since it seems like many bus operators haven't gotten that memo, I wanted to confirm existing TriMet policy for this situation. This morning, TriMet's designated bike guy Colin Maher confirmed that buses have to wait for the bike lane to clear before crossing it to serve the stop. Maher said if this fails to happen, you should report the incident by emailing customerservice@trimet.org or by calling 238-RIDE (note the location, time, bus line, and the 4-digit # on the back of the bus if you can).
As for Cohen, so far he's gotten one response to his email; from Mayor Adams' Transportation Public Advocate Dan Anderson. Anderson copied TriMet on the message (noting that it's their policies and employee conduct to deal with), and he also told Cohen he'd ask PBOT staff to get in touch with him directly about "steps they plan to take so that N Williams is as safe as possible."
Anderson has heard these same concerns from others, and he rides up Williams himself. He told Cohen that a "reexamination of this corridor may be necessary." Anderson also copied City traffic engineer Rob Burchfield and Roger Geller.
I agree with Cohen that this issue will likely never be fixed with education and training alone. The solution to successfully mixing bike traffic with other modes — on N. Williams and beyond — will come on several fronts and it must include a re-allocation of space and a re-thinking of how our roads are engineered.
— Read more about this issue, including a lot of suggestions on how to fix it, in our previous story.