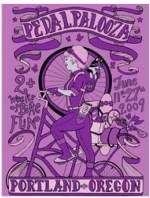 [Welcome to your daily Pedalpalooza rundown. We'll post each day's events and rides here, so you can plan, email them to your friends, etc…
See all our Pedalpalooza coverage here and follow the latest updates on Twitter.
Click ride title for full details… have fun out there!]

---
6:30am – 9:30am: Breakfast off the I-5 Bridge / Bike to Work
Coffee, donuts, bike maps, camaraderie. At the northwest end of the path just off the I-5 Bridge in Vancouver. Then head over to Esther Short Park for a Bike to Work event with prizes.
11:45am – 1:15pm: Crank My Chain 2 Way Television
On the internet! Democratic self-made bike tv. Crankmychain.com
Noon – 6:00pm: Irondelles Bikini Bike Wash
Get your bike cleaned up and help fund the tall bikes of the future. At the Irondelles Gang HQ, 1605 SE 33rd Ave.
4:00pm: PDX Biker Symphony
Grab your instrument, don your finery, and meet at SW Park and Salmon across from the Schnitz for Portland's first ever bike symphony. Join the ride for free beer and pizza down at South Waterfront — and then, from 6:00pm – 8:00pm, participate in a chamber jam at Atwater Place (3660 SW River Pkwy).
5:15pm: 2nd Annual Yoga Bike Ride
Ride around and do yoga in parks! Meet at Col Sommers, SE 18th and Taylor.
6:30pm – 9:00pm: Portland Red Ride
Meet at Liberty Hall (311 N Ivy) for a ride around various local sites of collective work and action.
6:30pm: Brewz Cruise in the Couv
Pub crawl up north. Meet at Bad Monkey Bikes Board and Skate, Broadway and McLoughlin, Vancouver.
6:30pm – 8:00pm: Shopping by Bike
Learn from a City expert all the ins and outs of transporting groceries, hardware, gardening supplies, and other stuff you might just not need the car for after all. Meet at St Johns Community Center, 8427 N Central St.
7:00pm: Short Shorts Scandinavian Pride Ride
Meet at Piccolo Park (on SE 28th between Clinton and Division) at 5:00pm for a Scandinavian potluck picnic. 7:00pm marks the start of this classic parade of Scandinavian spirit!
9:00pm: Fourth Annual Mini Bike Steeplechase
Zoobomb! Meet at Washington Park, 4100 SW Canyon Rd. Races start at 10:30.