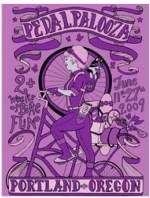 [Welcome to your daily Pedalpalooza rundown. We'll post each day's events and rides here, so you can plan, email them to your friends, etc…
See all our Pedalpalooza coverage here and follow the latest updates on Twitter.
Click ride title for full details… have fun out there!]

---
7:00am – 9:00am: Breakfast on the Bridges
Coffee and donuts for bike riders. Steel Bridge bike path and westbound on the Hawthorne.
Noon – 2:00pm: Sights Sounds Tastes Smells and a Touch of PDX
Another Portland Bicycle Tours ride. Meet at Tom McCall Waterfront Park, West End of Steel Bridge (At "Friendship Circle" sculpture).
Noon: Ale Lovers Ride
Meet outside Concordia Ale House at NE 33rd and Killingsworth. Work up a thirst during a loop around Marine Drive, then return to the pub for a pint.
3:00pm – 5:00pm: City Green Building Ride
Meet on the 3rd floor deck of the green-pioneering Ecotrust Building at 721 NW 9th for a tour of green buildings along the waterfront and the inside scoop on the city's green building history and policies.
3:00pm – 4:30pm: Business on a Bike
This conversation-paced networking ride happens every Friday. Meet at the Lucky Lab Beer Hall at 1945 NW Quimby.
5:00pm – 8:00pm: Police on Bikes: Watch How Slow They Go
Learn some of the maneuvers bike-mounted police are required to master, and chat with cops about bike issues. On the blacktop behind Sunnyside Environmental School, SE 34th and Taylor.
5:30pm – 7:00pm: Kidical Mass
It's the third Friday of the month and time to celebrate family biking with Kidical Mass! Downtown ride meets at NW Park and Davis, at the playground. Southeast ride meets at Sunnyside Environmental School at SE 34th and Taylor.
5:30pm: Carg-Off!
Bring whatever you use to haul stuff and prepare for balance, strength, and gravity-defying feats! There will be an afterparty. Irving Park, NE 7th Ave and Fremont St.
6:30pm – midnight: Zombie Cycle Outbreak!
Climb out of that grave and meet up at Waterfront Park, 1020 SW Naito Pkwy for a zombie-themed pub crawl.
6:30pm: Pedal(Shift)PedalStopBreatheSee
A free play by the Working Theater Collective in which the audience follows the performers along a 10 mile bike route, stopping for each scene. The show begins in Ladd Circle.
8:30pm: Bowie vs. Prince Mobile Dance Party
Meet in Dawson Park, 101 N Stanton St, and ride through the night, dancing in the pedals to tunes blasting from a bike-mounted sound system.
9:00pm: Portland Rock Gym Bike-in Movie
Bring blankets and snacks for a classic 80s film screened outdoors at NE 12th and Couch.
9:30pm: Dropout Bike Club Monthly Ride
Follow the freakbikes and their mobile sound systems into the night. It'll be huge, folks. Meet at Colonel Summers.
Elly Blue has been writing about bicycling and carfree issues for BikePortland.org since 2006. Find her at http://takingthelane.com