Warm weather has buoyed the collective mood of riders throughout the Portland area in recent weeks. But for some, thoughts unfortunately have turned to friends and riding partners involved in a spate of recent crashes.
I'm not sure if there have been more crashes this year than in previous years, or if I'm just hearing about more of them. Either way, I feel the need to share a few of the more serious ones if for nothing else than to rally our good thoughts for their quick and full recoveries.
advertisement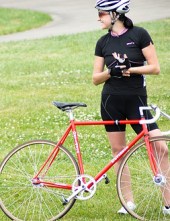 Kristin at Alpenrose last summer.
(Photo © J. Maus)
On Monday, Ironclad Racing Team rider Kristin McCarthy went down in the final sprint of a circuit race out at Portland International Raceway. The crash left Kristin with a brain injury and she has just been moved out of the ICU at Legacy Emanuel Hospital in North Portland. Last night, another racing event was held at PIR and Team Ironclad rode two laps at the front in her honor (see photo, above).
Donations for Kristin are being taken via PayPal to rider15@gmail.com. Follow her recovery at IroncladCycling.com.
Bruce Giunta
(Photo: Kevin Rhea)
The community is also coming together with thoughts and prayers for Bruce Giunta of Tualatin. Bruce was on a Portland Velo group ride in Vancouver yesterday when a stick flew into his wheel. The crash left him with critical injuries. More on that crash (and a few others) reported in today's Columbian newspaper.
On May 10, Team Rose City rider Ralph Medica crashed under mysterious circumstances while riding on NW Rock Creek Road, just north of Old Cornelius Pass. Medica, 54, was found on the side of the road by a passerby. His bike was "amazingly unharmed" according to a teammate.
Medica told me today that he has no recollection of what happened. He suspects a truck mirror hit him, but no one is sure what caused his crash. Police did not respond to the scene and no investigation is planned. Medica was badly bruised, suffered a face fracture, and spent several days in the ICU at Oregon Health Sciences University where doctors operated on a crushed vertebrae. He is now recovering in a back brace at his home.
---
Crashes are a part of racing and of riding, but no one likes to hear about serious injuries like this. I hope the riding season ahead is relatively serious-crash-free from here on out.
Jonathan Maus is BikePortland's editor, publisher and founder. Contact him at @jonathan_maus on Twitter, via email at maus.jonathan@gmail.com, or phone/text at 503-706-8804. Also, if you read and appreciate this site, please become a supporter.