M-Horton's Cycling Skirt is
designed with high, deep pockets,
rugged fabric, and biking and
gardening friendly length and flare.
(Photo: M-Horton.com)
Here in Portland, we're used to our top-notch selection of local framebuilding talent, but how about some locally-made, custom clothes to wear on your locally-made, custom bike? And no, we're not talking about tight hipster-jeans, or roadie lycra and spandex.
Enter Emily Horton, who is putting the finishing touches on the patterns and designs for her bike-specific, custom clothing. Horton is proprietor of M-Horton Clothing Designs, a one-woman custom-clothing and sewing house.
Horton says that when she got started commuting by bike at the age of 26, she immediately felt her wardrobe was lacking.
"Clothing is functional, and it should serve a purpose, but it should also be stylish."
— Emily Horton
"When I learned to ride a bike, I started to realize that some of my pedestrian clothes weren't as comfortable as they should have been," said Horton. At the same time, however, she saw the majority of cycling-specific clothing as abandoning form for the sake of function. "I believed then, as I do now, that a person shouldn't have to be 'one of those gear-wearing people' in order to feel comfortable riding," she continued. "Clothing is functional, and it should serve a purpose, but it should also be stylish."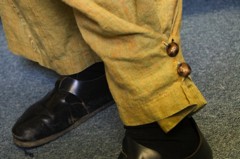 A nice touch for stylish bikers.
(Photo: Dan Liu)
Many of the garments she is working on at her studio at SE 11th and Salmon were, indeed, quite Portland-chic. All of her work is, as she puts it, "A marriage of personal aesthetic with modern technology." This means experimenting in a way most clothing designers do not: Horton sticks to traditional forms and ideas of casual street clothing, while playing with flexible cuts and tailoring on high-tech fabric.
The key to making clothes bike-specific is largely in the cut, Horton says. She describes her process as "problem solving" through cut and fit.
advertisement
The design for her cycling skirt came via a request from a friend of Horton's: to make a skirt that could be used for both farming and biking. "It needed a lot of things that aren't common in mass-produced skirts: the range of motion to mount a bike, fullness for cycling, it needed to be cut long enough to squat or kneel, a strong elastic waist, and, finally, pockets to put your tools in!"
Horton has made a lighter-weight, non-farming version of the same skirt with knit, wool jersey, which is currently being tested by a friend who is riding through Spain. It looks like an ordinary skirt — its bicycle-friendly elements are in the larger design considerations.
Emily Horton shows off her Cycling Trousers
(Photo: Dan Liu)
"The key is movement," says Horton. "A bike-friendly sweater, for example, would have longer sleeves and a higher back/neck line to accommodate more aggressive, bent-down cycling postures."
Horton is perhaps most excited, however, with experimenting with new fabric. One set of fabric samples she showed off is from a Swiss company, Schoeller Textil AG, and was originally designed for equestrian sports. It is stretchy, highly breathable, water-repellent, durable, and just as importantly, looks and feels exactly like thin, soft knit wool.
The other major design concept Horton has been working on solves the age-old cyclists' dilemma: how high does one roll up one's pant leg? Short of getting one of these, Horton's solution is to tailor a remarkably elegant, button system at the bottom of both pant legs, involving two or three buttons running up the ankle, each of which fastens twice to hold a double-fold in place.
Horton's says her designs and techniques are constantly being refined, and change for each custom order, but she is unveiling many of her cycling-specific designs, patterns, and samples at this week's Handmade NW pavillion as one of this year's Rose Festival vendors on the Waterfront on the 28th through the 30th of May.
M-Horton Designs is taking custom orders, and Horton also offers private sewing lessons to those interested. You can visit her website or email her at info at m-horton dot com.
---
– Check out M-Horton's cycling-specific designs at the Rose Festival on May 28th – 30th.
– See work by other bike-oriented crafters, printers, designers, and more at the Summer BikeCraft on June 27th at the Multnomah County Bike Fair.