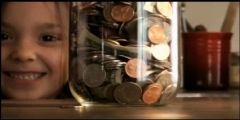 A screenshot from video "Dear Nana" by Guy Baker
"Drive Less. Save More." is an awareness campaign sponsored by dozens of regional businesses and organizations whose collective goal is to reduce car trips in Oregon and Southwest Washington. The program provides the public with information about driving costs, transportation options, delivery services, and more.
The campaign's latest promotion, the Drive Less. Save More. Video Challenge, solicited video entries for use as the campaign's next television advertisement. Seventy-seven entries were submitted in two categories and the field has been narrowed by campaign judges to the five best in both General and Youth (under 17) categories.
Now it's up to the public to decide the winners. Check out the ten contenders and vote on the ones you think do the best job of getting across the Drive Less message.
advertisement
Winners will be run on the air as advertisements, and will be unveiled at a film festival at the Hollywood Theatre in N.E. Portland on May 28.