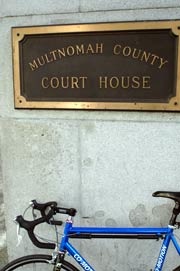 BikePortland managing editor Elly Blue is in the courtroom today for day one of the Phil Sano Trial.
Sano and his lawyer John Gutbezahl are at the Multnomah County Courthouse to fight charges of criminal resisting arrest brought against Sano by the Multnomah County District Attorney's office. The judge assigned to the case is Youlee Yim You.
(For more on this story, see our original report from June 11th, 2008 and see all our coverage by browsing our "Phil Sano Tasering Incident" tag.)
We'll update this story as things progress in court. Here are Elly's reports (sent to us via email as they happened and then edited for clarity):
11:04 A.M.:
It has started. The State has introduced new photos of a re-creation of the scene taken the after the incident. The photos include police posing with glowing badges. Phil's lawyer is objecting to all three photos, pointing out that officer's badges are reflective, so the images aren't accurate unless light conditions (which show badge) were identical.
[One of the key positions of the defense is that the officer's did not adequately identify themselves prior to tackling and tasering Sano.]
advertisement
The State (DA Ryan Lufkin is working this case) says the pictures accurately depict lighting conditions and badge reflectivity.
Gutbezahl counters that the camera isn't the same as human eye and that the jury will be hoodwinked. Phil did not in fact recognize the officer, he maintains.
Photo from the scene on June 10th, 2008.
(Photo: Ian Stude)
Judge allows photos as evidence but agrees there is some prejudicial aspect that must be addressed.
11:13 A.M.:
The defense has put forward a motion to suppress one of the state's witnesses.
[This issue centers around the DA serving me (Jonathan Maus) with a court order demanding the identity of a commenter that witnessed the Sano incident. Read more about this in the Portland Mercury.]
Gutbezahl: The state believes its interest is stronger than the need for free media. Media is fourth estate; it must be free and independent. This is a resisting arrest case, not terrorism, it doesn't warrant government restricting the media. Maus should not have been unilaterally served with a court order, contempt of court is a serious allegation, state has said that process was consensual but clearly was not. Mr. Sano has right to object to admission of this witness as evidence. The state broke the media shield law.
DA: The comment in question was posted publicly on a website, only "chilling effect" on media would be against leaving comments open, so what? Oregon is looking for an exclusion from federal, not state law, (federal law is much more strict). DA Lufkin has listed six reasons for disallowing defendant from seeking exclusion remedy.

[Read the DA's official response to Gutbezahl's motion to suppress – Download PDF, 88Kb]
Gutbezahl: This is a 14th amendment challenge, not an Oregon constitutional challenge.
Judge deliberates for a while and…No. She is convinced by state. Does not disenfranchise defendant's privacy interest, motion to suppress has been denied.
11:20 A.M.:
Current deliberation: The DA wants to play the traffic court tape from same incident [Sano was found guilty of traffic citations back in September]. Defense doesn't want this because Phil's sarcasm on that occasion might be prejudicial to the jury. It's a fifty minute transcript. Lawyers are agreeing on parts to remove, including sarcasm.
There are several witnesses here, including a few supporters of Sano that I recognize.
11:24 A.M.:
Jury selection is about to begin. More updates coming soon…refresh this page for latest.
2:01 P.M.:
Just got back to the courthouse. The judge called me up to the bench and whispered that while they support the idea of this live blogging thing, and don't want to impede it in any way, no really, not in any way at all, they love the free media, but she must make me aware of the rule that no images or information about jurors is allowed to be broadcast outside the courtroom.
Also, they keep the witnesses out of the room so they don't hear anything that might change their testimony, but she's decided the best thing to do is just instruct the witnesses not to read our live coverage.
Jury selection is just getting underway — I'm going to take off and spare you and myself the details of that. It doesn't look like much is going to happen before 3:30 when the trial stops for the day, so I'll be back tomorrow.
3:53 P.M.:
Got here at end of DA Lufkin's opening argument. DA says he has witnesses that saw Sano resisting arrest after he was Tasered and that officers say he was flailing around. He also quotes Phil Sano saying "it wasn't that dark" in his traffic trial [Sano has already been found guilty of two traffic citations from the incident.]
Gutbezahl (Sano's lawyer) is up… He says it was dusk, hardest time to see. He shows a picture of the officer, says he ran up to Sano yelling "stop! stop!" and then tackled Sano and never identified himself, never said "your under arrest." Yes, says Gutbezahl, Sano should have had a light, and should have had his hands on the handlebars but "the issue here is that he is vulnerable" while being confronted on his bike.
If Sano used any type of force it was in response to excessive force.
State calls Cameron Lovre:
Lovre was on way home from dinner party. Down sandy, south on SE 7th when he saw police car parked in street, lights on, heard sound, saw an animated interaction, identified two officers in uniform, saw their badges but not sure if it's because of their reflective quality. Lovre also says he saw Sano waving arms not aggressively but expressing himself, "he seemed very upset."
Officer's body language: one trying to get him to calm down, one with arms crossed.
Lovre was at intersection, stopped, watching, for about ten seconds.
Now they have him drawing a diagram…
4:00 P.M.:
Cameron Lovre testimony continues…
In 10 to 15 seconds, he says he didn't see Sano calm down. He demonstrates Sano's actions by waving his arms. He drove away, heard screaming, turned around and saw Sano on the ground. The light turned green and he drove on.
Defense questions witness: Never heard Sano threaten officers. Asks about arm waving, would he feel threatened? Not sure, says Lovre. He was standing in one place, not advancing on officers. Lovre says it looked like a child's tantrum.
Redirect: Lovre didn't actually see Taser, but saw its red light at Phil's torso. Remembers hearing officers warn Sano to calm down or he'd be Tased.
4:15 P.M.:
Next witness called is John Henry Dale. Dale shows up with bike helmet in hand.
DA questions him first:
Dale was walking down the street on SE Morrison and 7th. Heard noise first, then saw it and walked towards the altercation. Heard screaming and buzzing of Taser. Inferred from cop cars that was police detaining someone.
[Note, the following, like everything in this transcript, is a paraphrase.]
DA: Was the man you saw resisting arrest?
Defense: Objection. That's a legal definition.
Judge: Sustained
DA: What did you see?
Dale: Someone being detained and not complying.
Defense:
Confirms Dale saw nothing at all prior to Tasing. Dale says he heard Sano say, "Stop! I'm in pain!", but thinks that was after the Tasing had stopped, not sure. He thought Sano appeared to be in pain, officers were holding him down and he was struggling against this but not kicking or punching (he wouldn't have been able to since they were holding him down strongly). He didn't hear any threats.
Redirect: Was he struggling? Yes. Was he struggling against an attempt to be detained? Dale doesn't think so. He thinks Sano's struggle was against the pain, not against the detainment itself.
Defense: That's speculative.
DA: Brings out email from Dale. The email says he believes Sano was resisting arrest but doesn't think the Tasing was justified.
Defense objects to "resisting" terminology. Judge strikes the bit about the email from record.
DA establishes that Dale thinks Phil Sano was struggling against being arrested.
And court is out for the day…
If you have questions or feedback about this site or my work, feel free to contact me at @jonathan_maus on Twitter, via email at maus.jonathan@gmail.com, or phone/text at 503-706-8804. Also, if you read and appreciate this site, please become a supporter.