Photo from the scene on June 10th, 2008.
(Photo: Ian Stude)
Back in June, Portlander Phil Sano was tackled and then Tasered repeatedly by two Portland Police Bureau officers while riding his bicycle on SE 7th Avenue. The police maintain he failed to obey their orders and then resisted arrest. Sano says they failed to identify themselves and then used excessive force to subdue him.
Next week, the Portland District Attorney's office will present a criminal case against Sano.
The DA will try to prove that Sano is guilty of resisting arrest. This is the second time Sano has been in court for this incident. Back in September, he was found guilty of two traffic citations (failure to obey a police officer and not having a bike light) and was ordered to pay $285 in fines.
advertisement
At around 9:30 pm on June 10th, Sano was riding north on SE 7th. As he approached SE Morrison, the Portland Police Bureau says he was told to stop for not having a front light on his bike. When Sano refused, an officer tackled him and then used a Taser gun repeatedly in an effort to subdue him.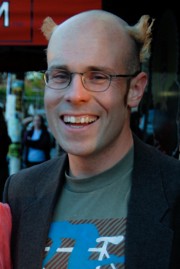 Phil Sano in April 2008.
(Photo © J. Maus)
On June 11th, The Oregonian reported that the police say they did not use their Taser guns until Sano became "combative".
Sano — who has retained lawyer John E. Gutbezah to represent him — stopped by our office yesterday (he's working on a documentary about Critical Mass with Joe Biel) and I asked him about the case. Sano said he thinks the DA's office is bringing this case to trial in an attempt to preempt him from seeking a civil lawsuit against the city.
"If they win this case against me," he said, "it will make it much harder for me to file a civil lawsuit against them."
As to whether or not he'll sue, Sano says he's still considering it. Sano still maintains that excessive force was used (he suffered several wounds from the Tasers and the altercation). He said that changing laws is unlikely to prevent this from happening again and added that, "The only way I could change things is by suing the system…I don't want this to happen to anyone else again. If it does, I've failed."
Witnesses are likely to play a big role in the DA's case against Sano. Back in November, I was served with a court order from the DA's office requiring me to turn over the contact information of a commenter who wrote that they had witnessed the altercation (I refused the information, but the witness eventually came forward voluntarily. Read more about it in this story in the Portland Mercury). Another witness, a woman who was pulled over at the time for not having a light on her bike, has also come forward.
Back in September, Portland Police spokesman Brian Schmautz told us, "Don't judge the suspect or the officers at this point, let's let the system work. The officers have a job to do and Mr. Sano will have his side heard at the appropriate time and place."
We'll keep you posted on how the trial goes.
— Browse our "Phil Sano Tasering Incident" tag for previous coverage of this story.