Posted by Jonathan Maus (Publisher/Editor) on January 16th, 2009 at 9:44 am
[Via Dustbowl]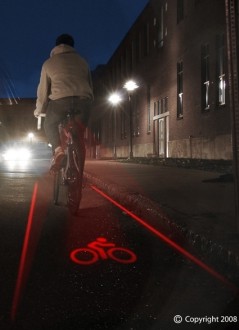 Design duo Alex Tee and Evan Gant from Massachusetts based product design firm Altitude Inc., are making waves around the web for their new "LightLane" concept.
Here's how they describe it:
Our system projects a crisply defined virtual bike lane onto pavement, using a laser, providing the driver with a familiar boundary to avoid. With a wider margin of safety, bikers will regain their confidence to ride at night, making the bike a more viable commuting alternative.
Gant and Tee say standard bike lights only light up a "fraction of the bike's envelope".
According to bike planner Denver Igarta at the Portland Bureau of Transportation, there are 3,949 miles of streets in Portland, but only 173.8 miles of them are painted with bike lanes. He estimates it costs PBOT around $2,500 per mile just to do the paint striping.
No word yet on the actual viability of LightLanes as a product you'll see in bike shops soon (it's just a design concept, like that Nike "Hindsight" idea we reported on back in October), but it's a very intriguing idea. I'd buy one.