Posted by Elly Blue (Columnist) on December 15th, 2008 at 11:41 am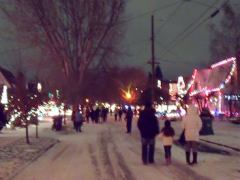 Last night was the unofficial/official start of the annual Peacock Lane holiday light festival. For the first time ever this year, organizers decided to try a carfree night.
From all reports we heard, it was a big success. Not even snow, ice and frigid temps could keep people away from the lights and this "quintessential PDX experience" (as one reader put it). Not having to worry about cars in the street was icing on the cake.
Mark Allyn dressed for the occasion.
(Photo by Greg Raisman)
Reader Scott Mizee lives in University Park neighborhood. He attended the event with his entire family and said, "The kids and I had a great time slipping and sliding down the middle of the street! Fantastic night." Mizee hasn't experienced the event with cars, but adds, "I can imagine what it would be like and I think I'd stay away on such a night…"
We heard from one of our Twitter followers, "secretmuffin", that "Peacock lane is happening!" and that, "People are walking with kids and its cold cold fun!…Lots of people are venturing OUT and loving it carfree."
Scott also took photos of the event. For more images, check out the photosets from SE Portland residents Greg Raisman and Aaron Tarfman.
Did you brave the elements for the holiday lights and hot apple cider on carfree Peacock Lane? We'd love to hear your stories.
— Peacock Lane's light extravaganza will be open until December 31st. Find out more at PeacockLane.net.