A bike assembly area — like this
one at the Christchurch Airport in New Zealand —
might be installed at PDX by this spring.
–More images below–
(Photos courtesy Jason Gately/PDX)
The Portland International Airport (PDX) hopes to become the first airport in the United States to offer bike assembly areas and other services for two-wheeled travelers.
Already in existence at airports in New Zealand and British Columbia, the idea is to set aside a dedicated facility where people could re-assemble their bicycles before they hit the road, or take them apart and pack them up prior to getting on a plane.
According to PDX aviation planner Jason Gately, who I confirmed the plans with this morning, the idea (which sprang from a brainstorming session at the Oregon Bike Summit back in April) is to have the facility on the lower level near the MAX light rail station and baggage claim area. Gately says it would be placed outside (under cover) and would include at least two bike clamps and an air pump (bolted to the ground).
"We want to promote bike tourism as much as possible…and PDX is a natural gateway for that."
— Jason Gately, aviation planner at PDX
There will also be a new Travel Oregon kiosk to tout our regional bikeways and direct travelers to the assembly facilities.
Other ideas Gately hopes to incorporate into the plans are a bike tool loan program and a way to recycle and/or sell cardboard bike boxes and provide storage and access to hardshell cases.
Gately says this idea is a natural fit with PDX's vision to, "promote bicycling in the region as an integral part of our culture," and he adds that, "we want to promote bike tourism as much as possible…and PDX is a natural gateway for that."
The bike assembly area at the Auckland Airport in New Zealand.
Gately has been working with Travel Oregon and Travel Portland, and recently met with Jerry Norquist of Cycle Oregon and Matt Picio of CycleWild (a non-profit focused on bike-touring) to get their input on the plans.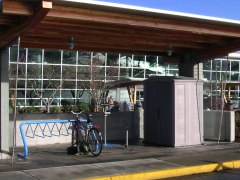 This bike assembly area at an
airport in Victoria BC includes a tool
shed and bike lockers.
The new bike assembly area is just a concept at this time, and there's currently no funding set aside for it. Gately estimates it would only cost a "couple of thousand" dollars at the maximum.
He thinks there's a good chance the Port will sign off on the plan: "It's low-cost and high-benefit, and it fits in with a lot of other things we're doing." But, even if the Port doesn't fund it themselves, "Maybe a local bike shop or other business would want to sponsor it," says Gately, "or maybe we can find some grant money to make it happen".
Gately hopes the new facility is installed and ready to go in 4-6 months, just as the spring biking season gets underway.
If you think this is a good idea, or if you'd use something like this yourself, Gately encourages feedback and emails of support to the Port of Portland management. Fill out their contact form with your comments here.