The ghost bike for Tracey Sparling (at the corner of W. Burnside and 14th in downtown Portland) with fresh flowers placed by family members on the one-year anniversary of her death.
(Photos © J. Maus)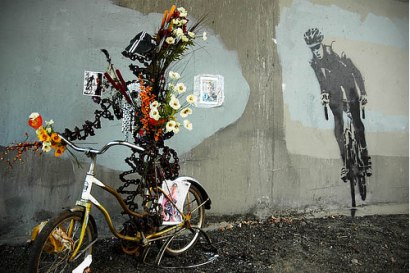 A memorial sculpture and stencil (since removed) for Brett Jarolimek at the intersection of N. Interstate and Greeley.
One a year ago today, Portland reacted with shock, anger, sadness, and frustration at the second fatal bike/truck collision in a period of less than two weeks.
Tracey Sparling (1988 – 2007)
On October 11, 2007, 19-year-old art student Tracey Sparling was on her way to class when she rolled up to the intersection of W. Burnside and 14th. A cement truck was also waiting at the intersection. The truck driver turned his vehicle right, onto Burnside from 14th, and didn't realize Sparling was there — until it was too late.
Just 11 days later, on October 22nd, 31-year-old Bike Gallery employee Brett Jarolimek was riding downhill on N. Interstate Ave. A large garbage truck, which had passed him at the top of the hill, was turning right onto N. Greeley. When Jarolimek came to the Greeley intersection, he could not stop in time to avoid the truck and was killed on impact.
Brett Jarolimek (1976 – 2007)
These two fatalities were major body-blows that took the breath away from a city that prides itself on being the most "bike-friendly" in America. Making matters worse, these weren't the only fatalities in the Portland area in 2007. There were also very serious injury crashes, including one that happened under similar circumstances at the exact intersection where Jarolimek was killed.
These events, exacerbated by some insensitive statements made by top leadership at the Portland Police Bureau, resulted in an unprecedented outcry from the community.
Thankfully, those emotions quickly turned into inspiration and positive activism that has had a lasting impact on our city.
In the coming days, I'll take a closer look at what has changed — and what hasn't — since these two tragedies. From policies and infrastructure, to the Police and grassroots advocacy — because of Tracey and Brett, this city will never be the same.
====
Brett and Tracey, I ride by your intersections often and I think a lot about what happened. You are not forgotten.
May you both rest in peace.
If you have questions or feedback about this site or my work, feel free to contact me at @jonathan_maus on Twitter, via email at maus.jonathan@gmail.com, or phone/text at 503-706-8804. Also, if you read and appreciate this site, please become a supporter.