During a morning poster session (where bike and ped professionals offer up their latest research in science-fair style) here at Pro Walk/Pro Bike, I ran into Ginny Sullivan, the new routes coordinator for the Adventure Cycling Association (ACA).
Sullivan stood in front of an attractively designed new poster for an exciting project, the establishment of the United States Bicycle Route System. Once completed, the system will be a complete network of officially recognized, interstate bike routes.
The last time I checked in on this project was back in March when I chatted with ACA's executive director Jim Sayer (Sayer is the political/lobbying arm behind the effort).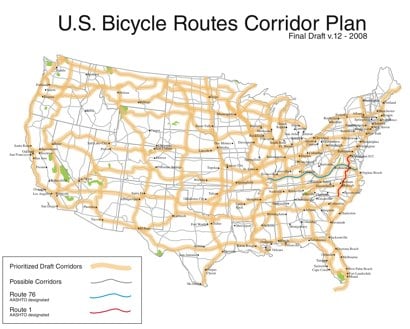 Sayer and Sullivan have been working through the lengthy process laid out by the key agency for this effort; the American Association of State Highway and Transportation Officials (AASHTO). AASHTO began this project in 2003 with the goal of developing a recommended, national corridor-level (50-mile swaths) plan for use by state department of transportations to designate potential future U.S. bike routes.
According to Sullivan, the ACA submitted a draft of their Corridor Plan (image above) to three key AASHTO committees. Two of those three committees have already approved the project. The final one, the Subcommittee on Design, is currently reviewing the proposal (to pass, it will need approval from 36 states).
Once the Corridor Plan passes that final committee, Sullivan says it will then go in front of the Subcommittee on Highways (what she refers to as "the Executive Board of AASHTO"). Approval of the plan is expected by this fall.
But Sullivan, Sayer, and project cartographer Casey Greene are not waiting for approval; they're already working toward initial implementations of the system. Sullivan told me that the first route is already being planned. She's working with Georgia and Florida on what will be called U.S. Bike Route #1. She has also looking at the West Coast and has talked with Oregon's bicycle coordinator Sheila Lyons ("she's very supportive") and the head of California's DOT.
For more information on the U.S. Bicycle Route System, visit AdventureCycling.org.
Jonathan Maus is BikePortland's editor, publisher and founder. Contact him at @jonathan_maus on Twitter, via email at maus.jonathan@gmail.com, or phone/text at 503-706-8804. Also, if you read and appreciate this site, please become a supporter.