Posted by Jonathan Maus (Publisher/Editor) on August 15th, 2008 at 2:06 pm
(Photo © J. Maus)
Here in Portland, the "bike fun" movement is alive and well.
What is bike fun? Well, it's sort of a broad term (not sure who coined it, but I suspect it was popularized by an early pioneer of Shift) that encapsulates the fun-loving, free-spirited, enjoy-yourself-at-all-costs approach to riding bikes that is so common here.
Bike fun is important X factor that helps foster Portland's bike-friendly status. It allows people to make a subtle statement ("we're having fun, join us!") that is an appealing option compared to more traditional bike activism and advocacy. It's so subtle in fact, that many people partake in bike fun for the fun itself, and couldn't care less about any statement it might be making.
So I guess I shouldn't be too surprised that a savvy marketing team working for the automaker Mini would catch on. Check out Mini's new ad campaign: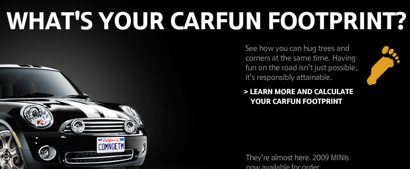 While some automakers are dealing with their hard times by upping their green credentials or shuttering entire factories, Mini has coined the term "carfun" and hopes to convince people that driving can be fun and environmentally O.K..
Here's their ad copy:
"See how you can hug trees and corners at the same time. Having fun on the road isn't just possible, it's environmentally attainable."
And they've even got an online tool that lets folks calculate their "Carfun Footprint" which they define as, "the measure of how much fun your car is versus the impact it has on the environment".
In my mind, there's simply no comparison between bikes and cars in the fun department, but let's just hope carfun doesn't catch on the way bike fun has.
Jonathan Maus is BikePortland's editor, publisher and founder. Contact him at @jonathan_maus on Twitter, via email at maus.jonathan@gmail.com, or phone/text at 503-706-8804. Also, if you read and appreciate this site, Jonathan hopes you'll become a supporter.