Former Mayor Bud Clark (L)
and Mayor-elect Sam Adams at the
celebration last night.
(Photo:
Thomas Le Ngo
)
Last night at City Hall, the City of Portland hosted a party to celebrate their achievement of becoming a Platinum-level bike-friendly city.
As attendees gathered around the steps in front of the building and filled commemorative water bottles with root beer out of a Platinum pump, short speeches were made by three leaders who have played major roles in Portland's biking success story: City Commissioner and Mayor-elect Sam Adams, former Commissioner and now U.S. Congressman Earl Blumenauer, and former Mayor Bud Clark.
Unfortunately I missed the speeches (and the official "Bicycle Friendly Community Day" proclamation), but I did catch up with former Mayor Bud Clark before he rode off.
Clark was Portland's mayor from 1985 to 1993. During our brief conversation, he reflected back on his tenure and said, "I just rode my bicycle to City Hall everyday [with a few exceptions when he needed a car], so i just appreciate that this has continued on and that this has been able to happen here in Portland. The time had come."
Clark than looked back even further into Portland's bike culture, "Even Henry Pittock [founder of The Oregonian, among other things] was riding a bike in Portland in the turn of the century."
Clark's own realization that bikes could be a good thing for our city came during a trip to Amsterdam in 1962.
"We were concerned about health and cholesterol even way back then… and I realized that Amsterdam had the same fat consumption rates as we did but they didn't have all the heart problems like we've got here in the U.S. I thought, heck, that's the key right there. These people were getting exercise on their bikes all the time!"
Clark isn't exactly a road warrior, and said he prefers to "ride the back streets". "I rode over to Southeast Clinton from my house in Southwest the other day," he said, "and I see all these bicycles streaming across the Hawthorne Bridge. It's extremely pleasing for me to see that."
After Bud rode off into the sunset, I spotted several familiar faces in the crowd, all of whom also play extremely important roles in making this a bike-friendly city:
Representing a vast brain trust of bike and traffic safety, advocacy, lobbying, etc… Here's (from L to R) Mark Lear (PDOT), Scott Bricker (BTA), and Greg Raisman (PDOT):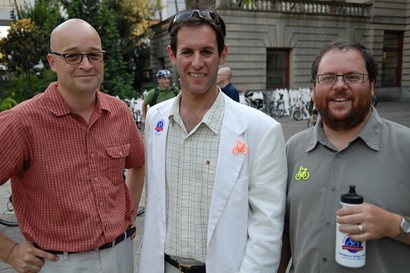 And then there's Linda Ginenthal from the Transportation Options arm of PDOT. Linda is still smiling from the awesome success of Sunday Parkways, an effort she led from day one:
And here's a shot of Police Bureau Traffic Division Captain Larry O'Dea, who's turning out to be the most promising leader of the all-important Traffic Division in years (and that's Officer Robert "PoPo" Pickett in the foreground):
Meanwhile, inside City Hall, folks took in the fantastic illustrations of Nate Padavick, an artist who has created a series titled, Portlanders and their Bicycles. Nate, incidentally, will soon be a Portland resident (welcome Nate!).
One of my favorite illustrations in this series is Doc's "City Tall" bike that was made (aptly enough) in front of City Hall back in June.
Also on display in the atrium of City Hall was a photo show of Portland bike scenes by Rachel Siegel. Rachel is the woman behind the Cycle Seen photo exhibition that was featured in nine locations throughout the city.
There was also cake and free beer (which was gone in record time I was told). Thanks for the party PDOT, but I can't help but wonder where we go from here?
How about a "10 by 10" campaign that shoots for a citywide 10% bike trip mode split by 2010? Can we do it!?