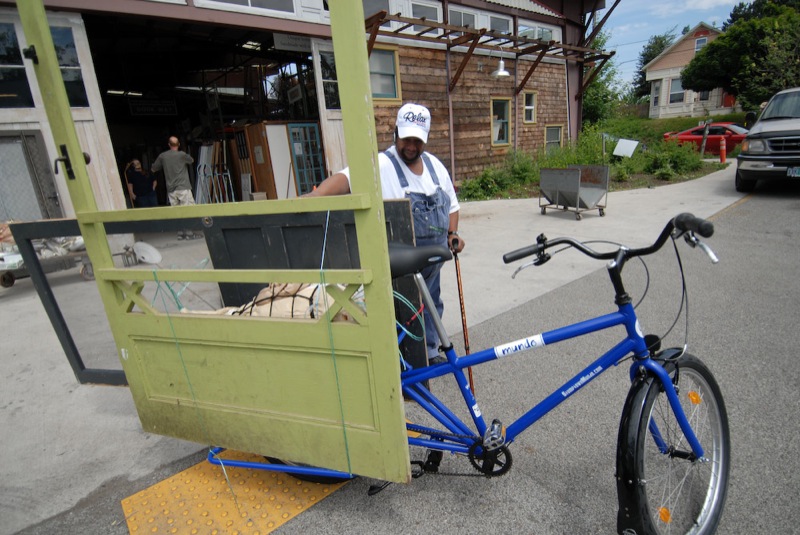 On Saturday, I decided to put the Yuba Mundo through a few paces.
When he dropped it off last week, local Mundo man Jeremy Towsey-French said the bike excels at carrying awkward loads. With that in mind, I decided to use it to pick up a few things I needed around the house — two large wooden screen doors and a 50-pound bag of chicken feed.
The bag of feed (which I picked up from Pistils Nursery on N. Mississippi) fit nicely along the top of the rack and I used Jeremy's webbed, bungee straps to fasten it down. At 50 pounds, the bag of feed was only about 12% of the maximum capacity of the stout rear rack, so I headed down Mississippi to a recycled building materials store to add to the load.
Once there (with the help of a very nice man named Clay), I strapped on two extra-wide, wooden screen doors. As you can see from the photos, the load wasn't perfectly balanced. One of the doors was placed on its side and the other stood straight up (so much so that I clipped several branches as I rode home).
At first, I was worried the doors would slip off the rack, but as I got going I gained confidence. The bike rode predictably and the large tires helped soak up bumps.
The Mundo was in its element and I loved the comments I got from people as I pedaled home…
A man on his porch having a cell phone conversation: "… a guy riding his bike with two doors, only on Webster [street]!"
A guy on a bike who passed me by: "For a while there I thought I was in China."
A lady walking on the sidewalk: "That's quite a pickup truck you've got there."
I love a bike that challenges people's perception of what a bike can do — and the Mundo does precisely that.
A few months ago I tested an electric-assisted bakfiets and zipped effortlessly through the neighborhood at 18mph. Riding a large and heavy bicycle that could go just as fast as motor vehicle traffic, altered my thinking about bikes. For the first time I truly felt like I was nearing a more level playing field with my motorized counterparts.
Riding the Mundo has a similar effect.
With it's tank-like construction and beefy, integrated cargo rack, it does seem like a human-powered pickup truck. I could envision a group of neighbors buying a Mundo and keeping it as a shared resource for use whenever hauling beckoned (whether it was a trip to pick up lumber or just a long grocery list).
The Mundo is not a city bike, nor is it a bike most people would want as a daily driver, but it excels at its intended purpose — utility. If you want a bike that rides well even while carrying massive loads, without putting a massive dent in your pocketbook, a Mundo might be right for you.
______________
— The Mundo is made in Germany and it retails for just under $1,000 (with bi-pod kickstand and fenders).
— Visit StumptownMundo.com for more information.