Easter weekend means different things to different people. Some folks go to church and some folks ride their bikes through the city dressed up like bunnies (and I'm sure some folks do both).
But before the bunnies on bikes take over, let's not forget about "Alice in Paris".
Yes, it's that time of the year again when the BTA throws a big party where the entire Portland Bike Mafia shows up, drink lots of wine and formulates sinister plots to take over the city. Should be fun.
Then, on Sunday it's time to celebrate Easter by taking part in two great, time-honored Portland traditions: the Bunny on a Bike Ride and Zoobomb.
If you can believe it, there are three Zoobombs for you to choose from.
First, the Day-time Bunny Bomb meets at 1 pm at upper level Zoo Max Station and will meet up with the Southwest contingent of the Bunny Ride (and will then ride en masse to convene for a potluck picnic at a mystery park location).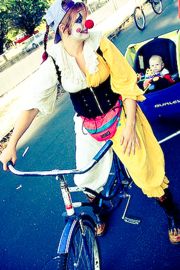 Caffeine Jones and her son
Bruce at a bike parade in August 2006.
Then, Ms. Caffeine Jones — formerly of the now defunct Alberta Street Clownhouse — is hosting a family-friendly Zoobomb. Caffeine says her Zoobomb is for parents who, "Want to take your kids Zoo-Bombing, but don't like all the booze, and can't stay out late on a school night."
Join Ms. Jones at 4:30pm at the Veterans War Memorial up in Washington Park. She'll have an egg hunt, storytime, and of course a mini-downhill run for the kids (and parents too!).
For those without little ones to put to sleep, don't forget regular old Zoobomb. It meets at 9:00pm at the Pyle in front of Rocco's Pizza (SW 10th and Oak).
And then of course there's all the other cool stuff going on that I don't know about.
What are your plans? Let us know and report back about your weekend adventures in the comments below…
Contact Jonathan at @jonathan_maus on Twitter, via email at maus.jonathan@gmail.com, or phone/text at 503-706-8804. Also, if you read and appreciate this site, please become a supporter.