Posted by Jonathan Maus (Publisher/Editor) on March 10th, 2008 at 12:15 pm
Start-up company BikeRacker will look to supply its temporary bike racks to local events and businesses.
---
BikeRacker founder Jeff Castro.
(Photo: Jeff Castro)
Nearly every Portlander who goes by bike has experienced it: You get to an event (sometimes even a bike-related event) and there are not enough places to park. Or, the spaces that are provided are inadequate and/or not secure.
Mechanical engineer/product designer and Portland resident Jeff Castro wants to change that.
Castro has launched BikeRacker, a new company that will specialize in providing bike parking services and expertise to events and organizations in the Portland metro area.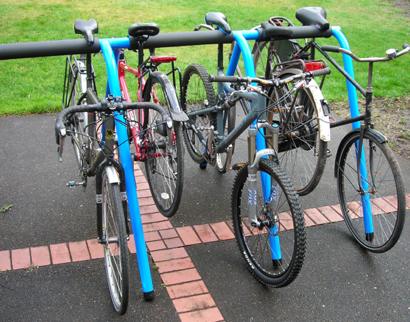 A BikeRacker rack in action.
More photos below
(Photo: Jeff Castro)
Currently a product designer at Leatherman Tool Group, Castro has put his mechanical engineering degree to work at various positions including Cannondale Bicycle's testing labs and motorcycle division, at Harley-Davidson, and at Yakima, the company that eventually brought him to Portland when they moved here from Arcata, California three years ago.
Castro is busy building up his fleet of racks for the upcoming event season. He plans to initially have 8-10 racks, each with a capacity to hold eight bikes. His service will be available on a per-hour basis and he's already gotten interest from the Portland Office of Transportation; they plan to hire BikeRacker to provide parking at their upcoming Sunday Parkways event.
At last month's North American Handmade Bike Show, the lack of adequate bike parking made headlines. With not enough available racks, show-goers locked to anything they could find, forcing Convention Center security staff to cut the locks, much to the disdain of many two-wheeled attendees.
Castro, who worked that event's valet bike parking area the next day as part of his ongoing research, said, "the idea was definitely validated by that situation."
Castro says the BikeRacker service is intended to be "non-valet based." Instead, he has designed the racks to easily accept standard U-locks and other locking methods. "In a nutshell," Castro explains, "I would deliver my self contained, secure bicycle rack(s) to the event site for the duration of the event, then breakdown and clear the racks after the event has concluded."
| | |
| --- | --- |
| (Photo: Jeff Castro) | (Photo: Jeff Castro) |
In addition to renting his racks for events, Castro also hopes to become a full-service bike parking resource. He says, "I hope to become a design and development resource for unique applications that require more specific parking solutions in commercial and residential applications."
Castro says this is something he's always wanted to do, and that he's realized that, "in Portland the energy for bikes and the timing is right." He also sees his services as playing a role in bike advocacy, "I hope to make an impact on getting more people on bikes in some way. My overarching mission is to not only the product and service but to hopefully grow cycling participation and overall cycling consciousness."
Stay tuned to BikeRacker.com for more information (the website is still under construction). You can contact Jeff Castro at info [at] bikeracker [dot] com.