Posted by Jonathan Maus (Publisher/Editor) on October 7th, 2007 at 4:25 pm
[Updated 10/8, 2:13pm]
[Updated 10/9, 9:18am]
(File photo © Jonathan Maus)
Somehow, a cyclist survived a run-in with a MAX train on N. Interstate Avenue today.
Here's the Oregonian's report:
"A bicyclist who was hit by a MAX train and ended up lying flat underneath it seems to have gotten away with non-life-threatening injuries, rescuers said.

A southbound MAX train hit the bicyclist, James R. Kuhlman, 46, of Portland about 11:45 a.m. at Interstate and Greeley avenues…

Kuhlman was riding downhill on Greeley Avenue when he crossed the train's path, police said.

The train's operator honked and braked, stopping about a train car's length from the intersection, said Susen Ritchey, 57, of Portland, who saw the accident.

By that time, Kuhlman was underneath the train's second car, and his bike had been pushed out onto the street…Kuhlman went to Legacy Emanual Hospital & Health Center with some broken bones, said Sgt. Brian Schmautz of the Portland Police Bureau."
According to a comment below, Kuhlman was following a competitor in the Portland Marathon when the incident occured.
KATU-TV has a report, video and photos. They say that witnesses claim Kuhlman, "tried to dart across the tracks in front of the train at the last second and the operator blew the horn, but it was too late.."
KATU also says the only way he survived was by laying between the tracks as the train rolled over him?.
Did anyone happen to see it? Or perhaps know James Kuhlman?
UPDATE: Portland Fire and Rescue photographer Dick Harris has posted a few photos from the incident. Here's one of them (view the rest on this forum post):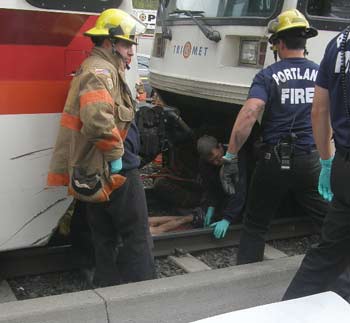 Photo by Portland Fire and Rescue photographer
Dick Harris