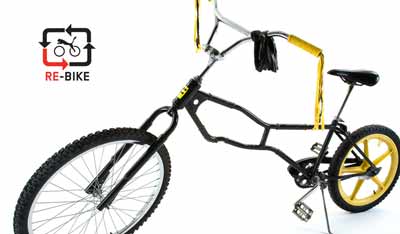 One of seven bikes being auctioned off as part of Puma's Re-bike fundraiser.
(Photo courtesy Bicycle Film Festival)
A program sponsored by Puma (in partnership with the Bicycle Film Festival), will raise money for the Northeast Portland-based Community Cycling Center.
Puma ponied up $200 each to several magazines for them to create "a bike depicting their magazine's personality". Each bike had to be made with recycled parts and they were displayed in theaters during the film festival.
Now the bikes — which range from a classic road bike singlespeed to a lowrider Schwinn Sting-ray — are up for auction on eBay and the Community Cycling Center is one of five bicycle non-profits that will receive the proceeds.
If you'd like to own one of these cool bikes and help support an even cooler non-profit, you've only got four days left to make your bid.
Check out all the bikes and place bids at the Puma Re-bike eBay store.