Brian and his motorhome-bike
before vandals destroyed it (see below).
(Photo: Bob Crispin)
Last November, I shared photos and the story of an amazing character making his home on the streets of Portland.
His name is Brian and he lives in a bicycle that he expertly engineered into a human-powered bicycle Winnebago. According to reports, he has been pedaling this unique vehicle all over the world for over three decades.
He had been making his street-home on SE Ankeny Street (near Citybikes) but had recently moved to northeast Portland, just east of MLK Blvd off of NE Ainsworth.
Yesterday, Ayleen Crotty (who lives in the area) announced on her blog that Brian was looking for donations to help him with some much-needed renovations to the bike. Ayleen's employer, OR Bike, had already chipped in $200 to the cause.
Unfortunately, this morning I received this sad news from a reader:
"…by 10pm [last night] it was torn to shambles. This morning it was still there and still in pieces. I do not know what happened (whether he did it himself or it was vandalized), but it's a damn shame. I almost cried when I saw it."
Someone else reported that yesterday evening they noticed, "a big hole in the side and the contents strewn everywhere."
Here are photos of the damage sent in from Ayleen Crotty: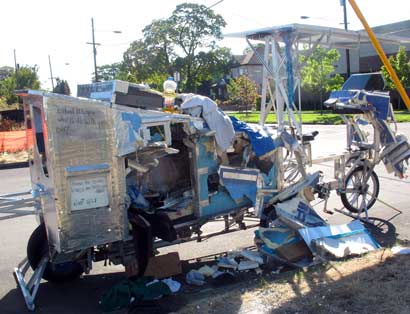 (Photos by Ayleen Crotty)
I haven't yet confirmed what exactly happened, but it doesn't sound good. I hope Brian can recover and I look forward to finding out how/if the community can step up and help him out. Please contact me or leave a comment if you have any information (or photos of the damage).
Stay tuned…
---
UPDATE: Brian destroyed his own creation. I met him last night. Read the full story in this post.