Posted by Jonathan Maus (Publisher/Editor) on July 31st, 2007 at 1:23 pm
I know it's early but I'm excited to share the news that thanks to the hard work of BikePortland volunteer Lanette Noble, we've confirmed a venue and date for the third annual BikeCraft Faire!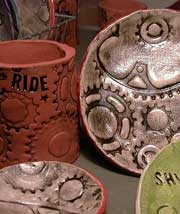 Amy DeRosso's ceramics
are always a best seller.
This year's event will be on November 15 at the Lucky Lab Beer Hall in northwest Portland (1945 NW Quimby).
For the uninitiated, BikeCraft is the bike-lover's bazaar that features local vendors selling handmade, bike-themed arts, crafts, films, textiles, jewelry, and more.
It's simply the best place to take care of holiday shopping for all the bike lovers on your list (or just score some great stuff for yourself).

Last year, hundreds of folks packed into the atrium of City Hall to buy everything from knitted mittens to custom messenger bags and bike haiku stationery.
We usually have around 20 different vendors. Check out the vendor list from last year to see what types of items are sold.
So mark your calendars for November 15 and stay tuned for updates as the date approaches.