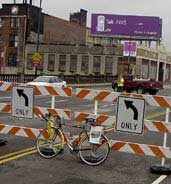 [Photo by Aaron Tarfman]
Bike activist Aaron Tarfman shares his thoughts on the recent Burnside Bridge closure over in the "Voices" section.
"This past weekend the Burnside Bridge was closed to all traffic. Given that at least 5 of the city's most dangerous pedestrian intersections occur on Burnside, I had to see what effect this would have on our city. The first thing I noticed about the closed bridge was the quiet. There were still numerous vehicles figuring out how to get around the detours (too bad they didn't read BTA's website) however it wasn't the nearly deafening roar which normally pervades the Burnside Bridge…"
Read more and see additional photos over on Aaron's website.