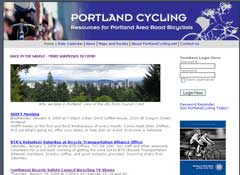 [Screenshot]
Carlo Delumpa has been a busy man. In addition to being one of the founders of the new club, Portland Velo, he has also combined his passions for technology (he works at HP) and cycling into a new website, PortlandCycling.net.

The most exciting part of the site is the calendar system. Carlo has created a calendar that any bike club and organization can use. For example, here is Carlo's version of the Shift Calendar. He is in the process of contacting local clubs to have at least one person from each group be in charge of inputting their own rides and events. Users can merge calendars from different groups, subscribe to a calendar's RSS feed, add events and even integrate the calendars right into their own website. He's also working on a comprehensive, unified calendar showing each and every Portland bike event…that would be very cool to see.
If you're interested in finding out more about the calendar, contact Carlo at carlo@portlandcycling.net.
Contact Jonathan at @jonathan_maus on Twitter, via email at maus.jonathan@gmail.com, or phone/text at 503-706-8804. Also, if you read and appreciate this site, please become a supporter.