Posted by Michael Andersen (News Editor) on May 7th, 2014 at 4:35 pm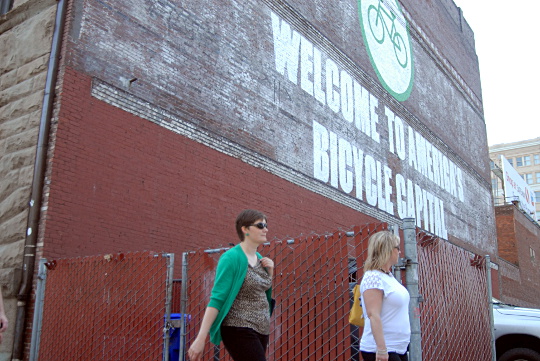 A bike rental shop put the mural up without city approval. Now that the city has enforced its code, the shop has received permission to convert the bike icon to an ad and remove the current lettering.
(Photos by M.Andersen/BikePortland)
Update 5/9: Pedal Bike Tours spokeswoman Lota LaMontagne writes in an email that the letters won't be painted over until late morning on Monday. "There has been no change in the decision by the city for the mural to come down," she writes. "This is only related to timing on the logistics of painting such a large space in a public parking lot." The story has been updated to reflect this.
The Portland city commissioner who oversees code enforcement said Wednesday that if the local business behind an iconic but unsanctioned pro-bike mural had wanted to create public art, it should have followed the procedure for doing so.
"There's a method to get a mural," Commissioner Amanda Fritz said in a brief exchange outside city council chambers, adding that the city council had "worked very hard to produce" a set of rules governing public advertising and murals. She declined any further conversation on the issue.
But because the downtown Portland building in question is designated as an historic landmark, an official mural isn't allowed on the wall, either.
Advertisements, on the other hand, are. And barring further developments, workers will next week erase the declaration "Welcome to America's Bicycle Capital" from the side of the building at SW 2nd near Ash. Later this month, the current 1,800-square-foot mural is slated to be repainted into a 484-square-foot ad for Pedal Bike Tours.
Like the existing mural, the new ad will also be larger than the 100 square feet permitted by city code. But because this time around, Pedal Bike Tours owner Todd Roll applied for an exception to city rules that are intended to limit advertising, the city is letting him keep the 484-square-foot ad space he's now proposed.
Mayor Charlie Hales, who said he was familiar with the mural but hadn't heard that it's due to be removed on Monday, deferred comment to Fritz.
"Let's let the permit process work," Hales said, nodding to Fritz, who oversees the Bureau of Development Services, for any further comments.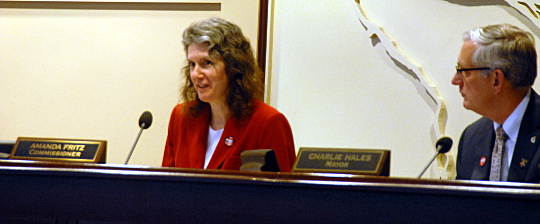 Commissioner Fritz, left, speaks on an unrelated issue at City Council Wednesday.
Email This Post