Posted by Michael Andersen (News Editor) on December 19th, 2013 at 9:42 am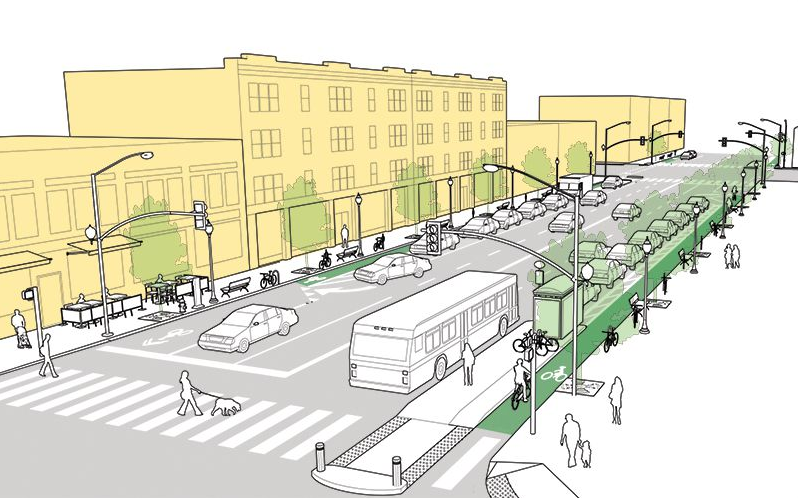 The NACTO Urban Street Design Guide's suggestion of a healthy downtown roadway.
(All images by NACTO)
When it comes down to curbs and crosswalks, a great street is as much a product of design as a great mobile app: the process of moving safely through a city needs to be as intuitive as sharing a photo with your phone. If it isn't, people won't.
That's why it's exciting that a new urban street design guide has been getting big attention.
"The best street design also adds to the value of businesses, offices, and schools located along the roadway."
— NACTO Urban Street Design Guide
Though it's been harder to notice than the surge of biking and walking in U.S. cities, traffic engineering in the United States has also been changing fast, shifting away from the 1950 assumption that wide arterial streets are best used to move cars as quickly as possible and back to the traditional understanding that arterials are instead the logical places to attract lots of people and the commerce and culture people create.
The National Association of City Transportation Officials (NACTO) has been at the front of this movement by creating a series of guides that traffic professionals can consult for ideas about designing streets that are worse at moving many cars quickly, but better for people and for economic activity.
On Wednesday, NACTO announced that the Washington Department of Transportation, in addition to 23 cities including Portland and Seattle, has officially endorsed their latest product, the Urban Street Design Guide.
To get a sense for what these local governments and WSDOT have endorsed as good inspiration for their engineering teams, check out these neat images from the new guide.
Here's NACTO's "before" picture of a "neighborhood main street," which doesn't look much different than Northeast Sandy, Southeast Foster, Southeast Grand or North Lombard: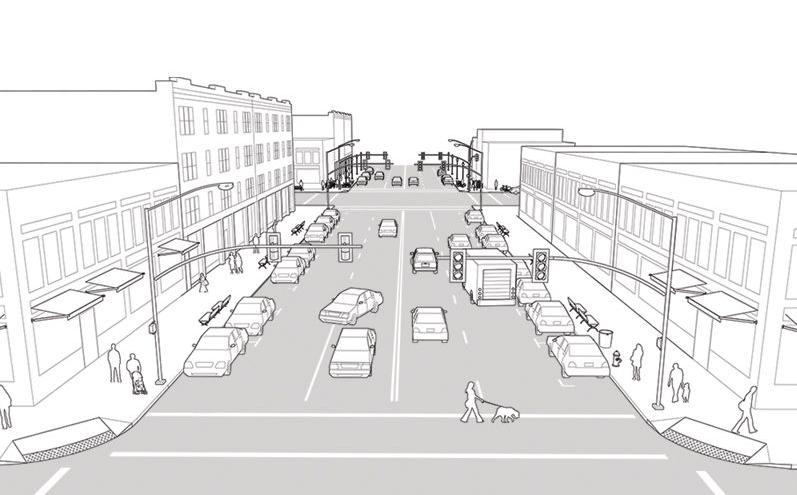 And here's the "after" sketch. Check out the sharp corners, bump-out sidewalks, center turn lane, parklet, dedicated truck loading zone and of course the buffered bike lanes:
Email This Post