Posted by Michael Andersen (News Editor) on September 11th, 2013 at 8:45 am
Neal Saiki sits on the waist-high cargo bed of the new 2×4 cargo bike.
(Photos © M.Andersen/BikePortland)
Some cargo bikes, built for personal freight and boxes, are low and light. Others, built for kids and errands, are deep and sturdy.
The cargo bike Neal Saiki is about to bring to market has a new formula. It's built to operate at the height that most of the world's work actually gets done: approximately three feet in the air.
But for the 2×4 cargo e-bike, which Saiki showed off in Portland this week, a waist-high cargo bed is just the beginning.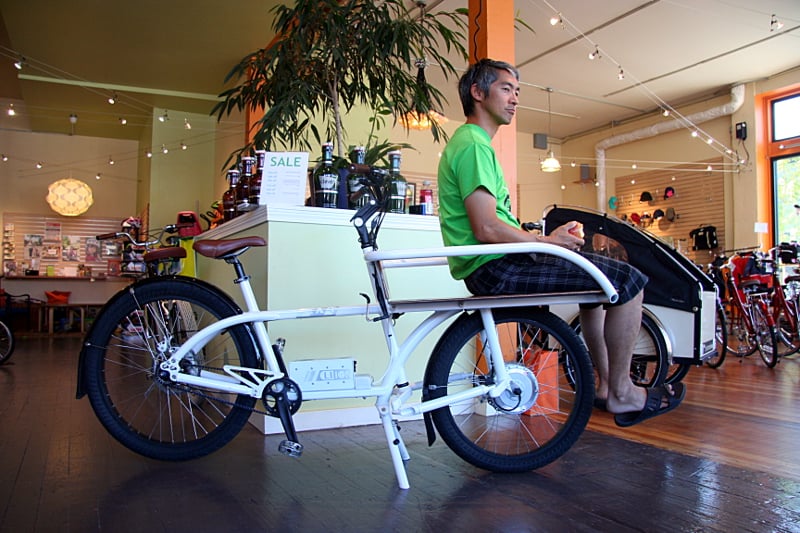 The 2×4′s official cargo capacity is 100 pounds, but handled its
creator's full weight just fine while parked at
Clever Cycles
Tuesday.
Saiki, a 27-year veteran of the bike building industry who's specialized in electric vehicles since 2004, launched his latest creation last week with a very specific market in mind: European postal carriers.
"They need to have the letters in front of them because they need to sort them," explained Saiki, who is based in Santa Cruz, Calif. The high bed means that workers don't need to repeatedly bend over, potentially hurting their backs, to fetch the cargo.
Saiki and his wife and business partner, Lisa Saiki, took their prototype to the Eurobike trade show last week and drew interest from the Belgian, German and Swiss post offices, all of which are considering replacing fully motorized vehicles with partially human-powered ones. But they're also targeting local delivery companies, nongovernmental aid organizations working in remote areas, and individual consumers.
This is an industrial-quality vehicle with a cost to match: The 68-pound 2×4 will retail for $4,600. Saiki said Tuesday that he expects "100 to 200 bikes to be ready around January to February."
I got to take a close look at the new contraption. Let's take the features one by one.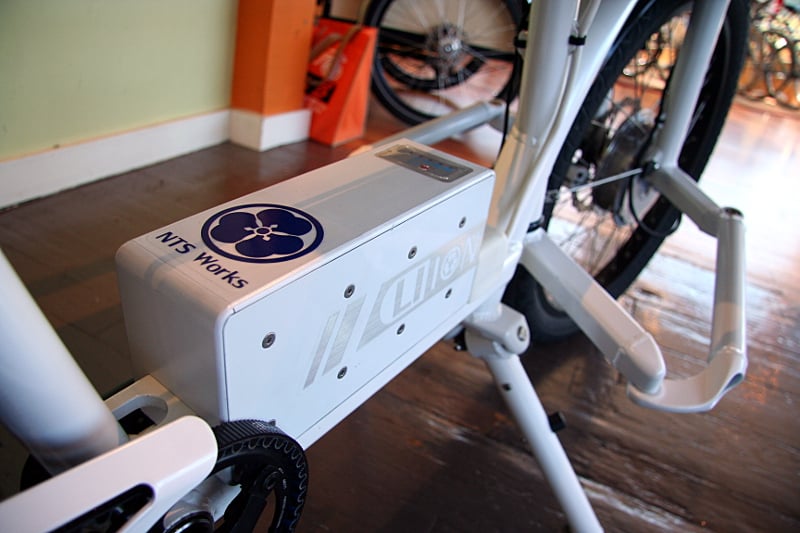 The 8-pound, 500wh modular battery carries at least 30 miles per charge.
Battery. "The battery has been the problem for all of these electric vehicles," Saiki said, citing the risk of unreliability or malfunction. Informed by Saiki's work at his last startup, electric vehicle company Zero Motorcycles, Saiki chose a new Samsung variety that he called "the first completely safe lithium ion battery." "You can overcharge it, you can put it in an oven, you can crush it and you can pierce it with a steel rod," he said. NTS says it's good for 500 to 1000 full recharges and can help you move 10,000 miles for a cost of about $30.
The company offers a lifetime service warranty and will swap in a new battery at any time for half the cost of a new battery (the new price is currently listed at $900). The water-sealed battery is modular, so welding isn't necessary for service.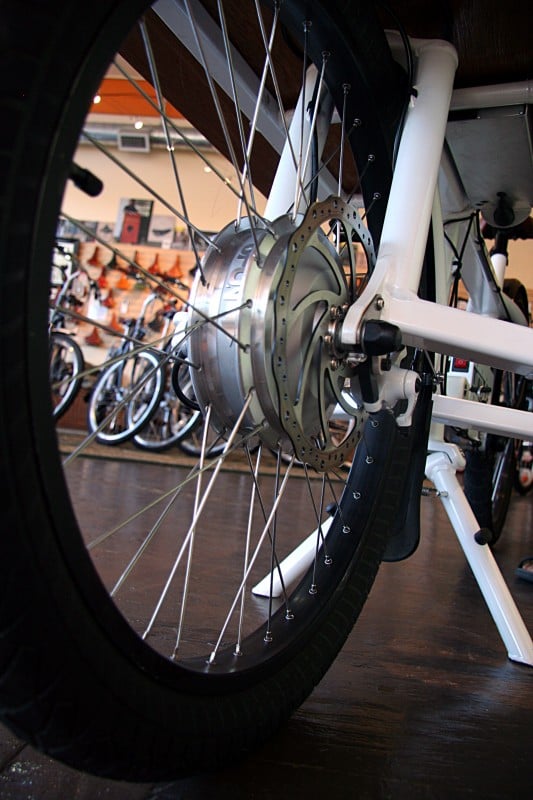 The e-bike has front wheel drive.
Electric assist. Most e-bikes put their electric drive at the back wheel. In order to let the 2×4 easily haul hundreds of pounds up steps and over uneven surfaces, it assist works at the front hub, giving the vehicle the delicate feeling of a power steering car.
The throttle can be adjusted manually.
Throttle control. The motor is activated by pedaling, and shuts off automatically after a hand brake or two seconds of inactivity. However, a simple panel on the left handlebar lets you boost, increase or decrease power manually: "Push the button to climb any curb," Saiki says. The 2×4′s 250-watt engine will assist you up to 20 mph.
Email This Post