Posted by Michael Andersen (News Editor) on August 20th, 2013 at 1:47 pm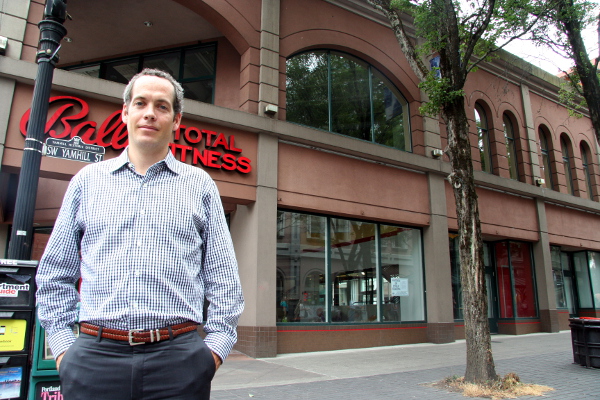 "If you're serious" in Portland commercial real estate,
Melvin Mark broker Peter Andrews says, good
indoor bike parking is no longer optional.
(Photo: M.Andersen/BikePortland)
Portland's central-city office market is soaring out of the recession, and bike, foot and transit access are driving its desirability.
"It's the busiest I've ever seen our marketplace in 10 years," says Peter Andrews, a broker for the major Portland-based real estate firm Melvin Mark.
An enthusiastic rider himself, Andrews has been finding bikes and low-car transportation spread through his professional life, too.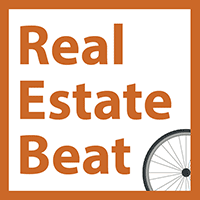 His firm is preparing to offer its fifth consecutive central-city building with dedicated bike parking, a 73,000-square-foot remodel of the former Bally's Total Fitness building on the block between Southwest Yamhill, Taylor, Second and First, immediately south of the car-free plaza on Yamhill Street. It'll be what you might call the first Pearl-style office building south of Burnside, with high ceilings, open flexible space inside and access to an 8,000 square foot rooftop terrace, plus some retail facing Second Avenue.
I met Andrews, 32, in May at the Portland Employers Bike Summit, where he was speaking about the importance of bike access to his projects. I followed up in more depth to get his take on the types of employers that are embracing bikes fastest and where he thinks human-oriented development is heading next.
Email This Post