Posted by Michael Andersen (News Editor) on July 13th, 2013 at 11:03 pm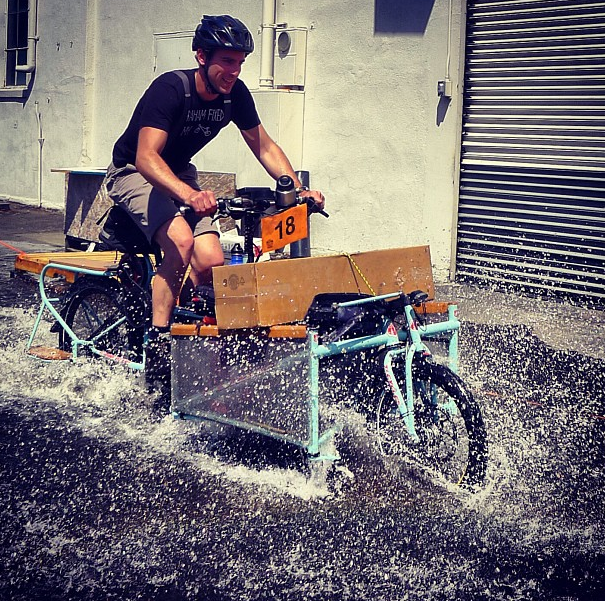 Portland's 30-mile catastrophe-themed urban bike competition returned for a second year Saturday with a splash and a lot of grunts.
"Bikes in general solve more problems than they create, and that holds true even when we're at our most desperate."
— Austin Horse, DRT open Class winner
In all, 48 cargo bikers set out from the Oregon Museum of Science and Industry past a series of checkpoints at which they picked up three eggs (representing vials of a precious vaccine during a hypothetical outbreak) from a local health station, a bucket of "food" from Sauvie Island and two buckets of fresh water hand-scooped from the Columbia River.
Total cargo weight by the end of the event: 88 to 132 pounds depending on class, according to steering committee member Michael Cobb. Cobb conceived the "spirited scavenger hunt" in 2010 as a fun showcase for the potential of cargo bikes to play a key role in disaster response after an earthquake, tsunami or other devastating event removes easy access to gasoline or electricity — something experts warn is likely in Portland.
"It stokes the Pacific Northwesteners' either public or private deep-seated belief that we're headed toward some sort of war, famine, zombies, aliens, disease, economic collapse, whatever," said Al Hongo of Eugene, a volunteer at Saturday's event. "It's so rad."
The route wrapped back and forth across the Willamette River several times, leading participants on an overland trek:
Photo by Al Hongo.
After crossing the Hawthorne Bridge back to OMSI, participants hoisted their cargo and vehicles over a jersey barrier: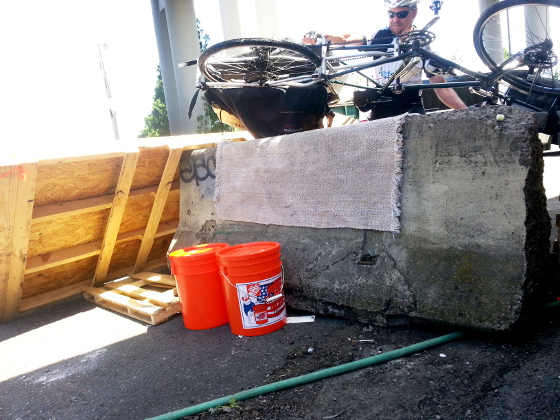 and pedaled in to cheers at the finish line.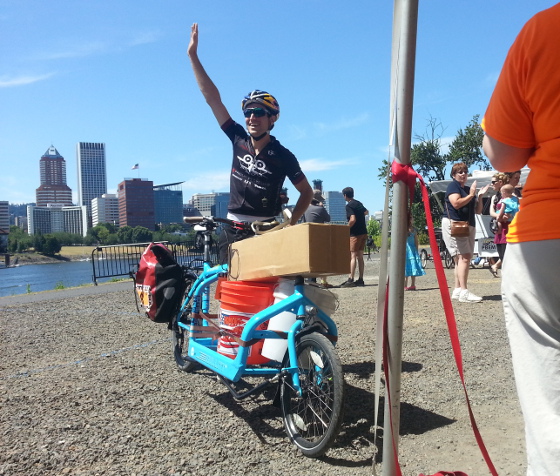 Organizers used walkie-talkies to track participants in each of three classes: "open," "citizen," and "e-assist":
The first-place finisher in the "open" class was Austin Horse, 31, of New York City, a retired bike messenger who'd flown to Portland to take part.
Horse said he'd fueled up the night before with "a bowl of something" from the Sweet Hereafter pub and packed four bananas in his pannier for the day:
Email This Post