Posted by Michael Andersen (News Editor) on June 26th, 2013 at 12:00 pm
Can they share interests, too?
(Photos © J. Maus/BikePortland)
The long, cold war between Portland's bike/pedestrian advocates and its freight advocates might finally be thawing, people involved in recent talks say.
The latest evidence: Trucking advocates have signed on to soften a set of state rules that might have essentially blocked all new bike lanes, road diets and crosswalk upgrades on state-owned commercial streets such as Lombard Street through St. Johns, Powell Boulevard through Southeast Portland and the Tualatin Valley Highway through downtown Beaverton and Hillsboro.
After two years of discussion, freight and bike/pedestrian experts have settled on a revised state rule that explicitly allows road changes as long as they don't physically block the passage of wide freight loads.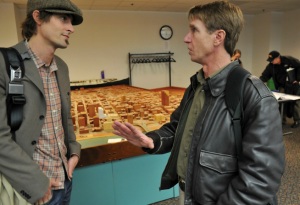 The BTA's Gerik Kransky (L) has sought to
build relationships with freight advocates
like Corky Collier (R).
Corky Collier, a freight advocate working in Portland since 2004, said communication between bike and truck experts has clearly been improving.
"On a range of 10, maybe it was a 4 in the past, but now it's more like a 7 or an 8," Collier said Wednesday. He credited the improvement to solid personal relationships among a few key players.
That's one reason Bicycle Transportation Alliance Advocacy Director Gerik Kransky has been attending the city's freight committee meetings, 7:30 a.m. on the first Thursday of each month, since 2010. The fruits of those labors were on display back in December when Kransky worked — with Collier's support — to restore funding cuts for active transportation when the two served together on the City of Portland's Budget Advisory Committee.
"Having a few friends goes a long way," Kransky said.
The state law currently being interpreted is known as the "hole in the air" rule, because it seeks to ensure that wide freight loads — mobile home components, wind turbine blades, large machinery — will always be able to use state highways "unless safety or access considerations require the reduction."
Email This Post